Roasted Kabocha Soup
10
65
262
Ingredients
Minutes
Calories
Prep
Cook
Servings
35 min
30 min

4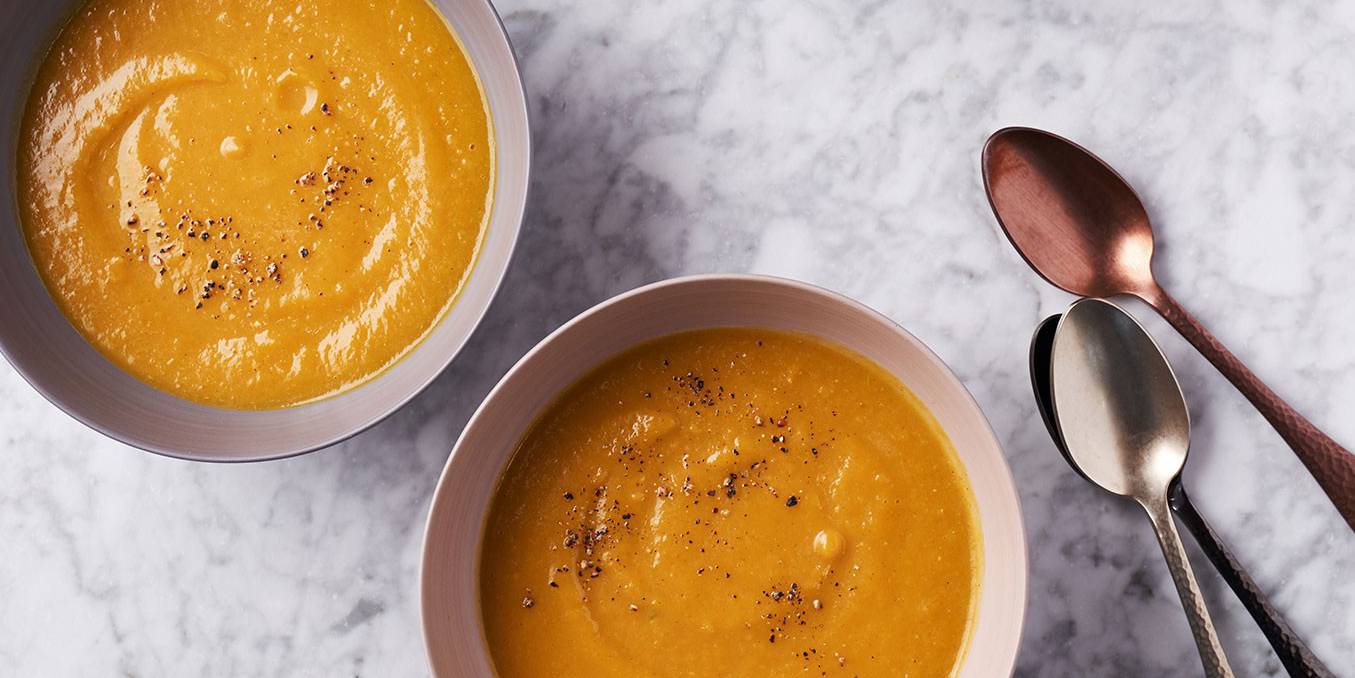 This warming winter soup has a good kick of ginger, which helps stimulate digestion. Use the second half of kabocha in the braised lentil salad.
Ingredients
| | |
| --- | --- |
| 1 squash | Kabocha squash (cut in half & seeded) |
| 2 tbsp | Coconut oil (melted) |
| 1/4 cup | Olive oil |
| 1 large | White onion (sliced) |
| 2 clove(s) | Garlic (sliced ) |
| 2 tbsp minced | Ginger root |
| 1 tsp | Cumin |
| 1/2 tsp | Coriander, ground |
| 1/2 tsp | Garam masala |
| 3 cup | Vegetable stock/broth |
Instructions
1. Preheat oven to 400°F. Season kabocha halves generously with salt and pepper, drizzle each with a bit of coconut oil, and place flesh side down on a parchment or foil-lined baking sheet. Bake until browned and tender, about 35 minutes.
2. Meanwhile, heat olive oil in a heavy bottomed saucepan over medium heat. Add sliced onion and a pinch of salt, stir, then turn the heat down to medium low. Cover the pot and cook for about 20 minutes, stirring occasionally, until onions are very soft and sweet.
3. Add the garlic, ginger and ground spices, turn the heat back up to medium high, and sauté for 1 minute. When the spices are fragrant but not burned, add stock, and another big pinch of salt. Partially cover the soup and let it simmer gently until the squash is ready.
4. When the squash is cooked, let it cool slightly, then scrape out the flesh of one half and add it to saucepan. You should have about 2 cups cooked squash. Bring the soup up to a boil, then reduce to a simmer, partially cover, and slowly cook for 10 minutes.
5. Blend, taste for seasoning and enjoy!
Nutrition Facts
Per Portion
Calories from saturated fat
87
Polyunsaturated Fat
5.2 g
Monounsaturated Fat
18.3 g
Total Carbohydrate
17.1 g
Dietary servings
Per Portion
Energy sources