Roasted Salmon Rice Bowl with Beets & Brussels
14
90
554
Ingredients
Minutes
Calories
Prep
Cook
Servings
40 min
50 min

4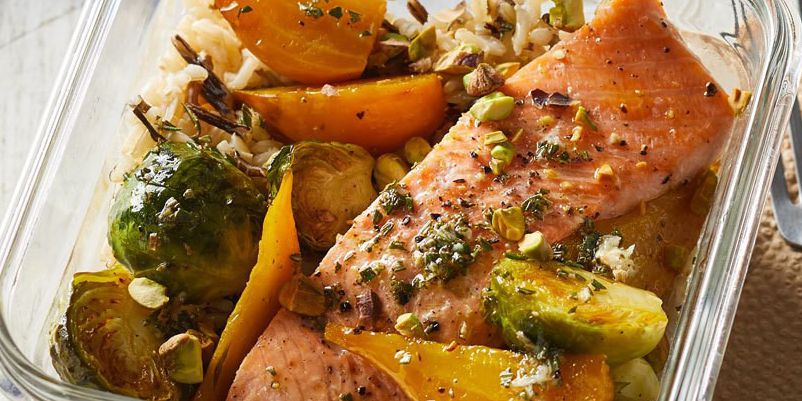 To ensure that you're getting 100 percent whole grains, look for a wild rice blend that consists of wild and brown rice.
Ingredients
| | |
| --- | --- |
| 4 cup | Brown rice, short-grain, cooked (soak rice before cooking if possible) |
| 2 beet(s) | Beets, raw (medium; peeled and cut into 1/2-inch wedges) |
| 227 gm | Brussels sprouts (trimmed and halved) |
| 3 tbsp | Extra virgin olive oil (extra-virgin; divided) |
| 3/4 tsp | Sea salt (divided) |
| 3/4 tsp | Coarse salt (ground; divided) |
| 3/4 tsp | Black pepper (ground; divided) |
| 1 medium | Lemon |
| 454 gm | Atlantic salmon,wild, boneless (wild-caught; fillet, cut into 4 portions) |
| 2 sprig | Rosemary, fresh (cut in half) |
| 1 tbsp | Thyme, fresh (chopped fresh) |
| 1 tbsp | Basil, fresh (chopped fresh) |
| 1 clove(s) | Garlic (minced) |
| 1 tbsp | Pistachio nuts (chopped) |
Instructions
Preheat oven to 425°F.
Cook rice blend according to package directions.
Meanwhile, toss beets and Brussels sprouts with 1 tablespoon oil and ¼ teaspoon each salt and pepper in a medium bowl. After the rice has cooked for 10 minutes, spread the vegetables on a large rimmed baking sheet and roast until just beginning to brown and soften, about 15 minutes.
Cut lemon in half crosswise. Cut half the lemon into 4 slices (reserve the other lemon half). Push the beets and Brussels sprouts to one side of the baking sheet and place salmon on the empty half. Sprinkle the salmon with ¼ teaspoon each salt and pepper and top each piece of salmon with a rosemary sprig and a lemon slice. Continue roasting until the vegetables have softened and the salmon is opaque in the center, 9 to 11 minutes more.
Meanwhile, squeeze the juice from the remaining lemon half into a small bowl. Whisk in the remaining 2 tablespoons oil, herbs, garlic and the remaining ¼ teaspoon each salt and pepper.
Divide the rice among 4 bowls. Discard the lemon slices and rosemary sprig. Arrange the salmon and vegetables on top of the rice. Drizzle each serving with about 1 tablespoon lemon juice mixture and sprinkle with pistachios.
Notes:
Quick Tips:
To make this recipe Paleo - omit the rice!

Nutritional Highlights:
Salmon
is a great source of protein and Omega 3 fatty acids!
Vegetables
provide key vitamins and minerals important for good health and maintenance of the body!
Nutrition Facts
Per Portion
Calories from saturated fat
28.6
Polyunsaturated Fat
5.2 g
Monounsaturated Fat
11.4 g
Dietary servings
Per Portion
| | |
| --- | --- |
| Fruit | 0.3 |
| Grain | 1.9 |
| Meat | 1.3 |
| Meat Alternative | 0.1 |
| Vegetables | 1.3 |
Energy sources