Rockin' Rosemary Popcorn
7
15
316
Ingredients
Minutes
Calories
Prep
Cook
Servings
5 min
10 min

4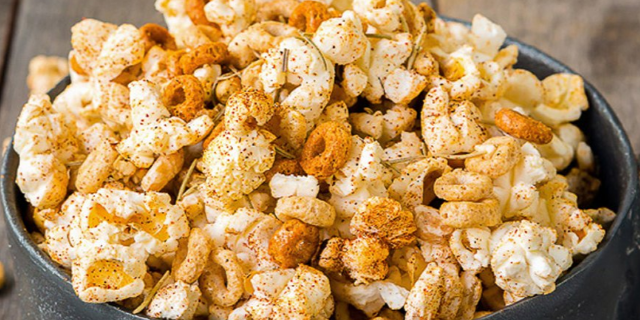 A healthy choice for movie night!
Ingredients
| | |
| --- | --- |
| 1/4 tsp | Cayenne pepper |
| 2 1/2 tbsp | Extra virgin olive oil |
| 3 tbsp | Grape seed oil (or peanut oil) |
| 3 tbsp | Nutritional yeast |
| 1/2 cup | Popcorn, unpopped kernels |
| 2 tbsp | Rosemary, fresh (minced) |
| 1 pinch | Sea salt (to taste) |
Instructions
1. Place a 5-quart saucepan on medium heat. Add organic grape seed or peanut oil.

2. Add a few popcorn kernels to the hot oil and cover the pan with a lid. Once the kernels pop, remove saucepan from heat.

3. Add all kernels, distributing them evenly on the bottom of the pan. Cover and count to 20. By removing saucepan from the heat and shaking it back and forth, all the kernels will be coated with oil and brought to the same temperature. Only then can the kernels pop at the same time when placed back on the heat.

4. Then place saucepan back on the heat, and shake the pan while still on the burner. The popcorn will slowly begin to pop. Once the kernels begin popping, crack the lid slightly to let out a small amount of steam.

5. Continue shaking the pan over the burner until the popping stops.

6. Remove from heat immediately and pour all popcorn into a large bowl.

7. In a small saucepan on medium heat, heat up the olive oil and add the minced rosemary. Stir for a minute, until the rosemary becomes crisp. (Cooking the rosemary releases its flavour into the oil.)

8. Pour rosemary oil over popcorn slowly, while tossing the mixture.

9. Sprinkle nutritional yeast, cayenne, and sea salt over all popcorn; cover bowl and shake, or stir thoroughly.

Serve immediately and enjoy!
Nutrition Facts
Per Portion
Calories from saturated fat
21.5
Polyunsaturated Fat
8.9 g
Monounsaturated Fat
8.6 g
Total Carbohydrate
25.1 g
Dietary servings
Per Portion
Energy sources