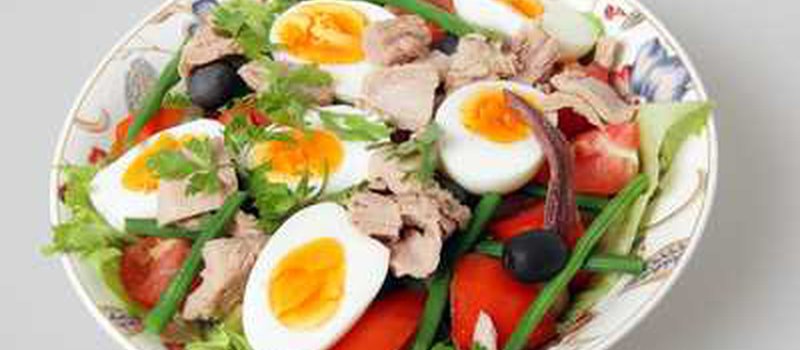 Nicoise Salad with Seared Tuna and Mung Beans
Prep
Cook
Ready in
Servings
20 min
25 min
45 min

10
Ingredients
| | |
| --- | --- |
| 16 anchovy | Anchovy |
| 16 anchovy | Anchovy |
| 1/2 tsp | Black pepper (1/4 tsp(vinaigrette)+ 1/4 tsp for tuna) |
| 1/2 tsp | Black pepper (1/4 tsp(vinaigrette)+ 1/4 tsp for tuna) |
| 2 tbsp drained | Capers, canned |
| 2 tbsp drained | Capers, canned |
| 1 tbsp | Chives |
| 1 tbsp | Chives |
| 8 large egg | Egg |
| 8 large egg | Egg |
| 1/2 cup | Extra virgin olive oil (divided, 1/3 cup (vinaigrette) + 2 tbsp for tuna) |
| 1/2 cup | Extra virgin olive oil (divided, 1/3 cup (vinaigrette) + 2 tbsp for tuna) |
| 900 gm | Tuna, bluefin, raw (sushi-quality) |
| 900 gm | Tuna, bluefin, raw (sushi-quality) |
| 2 clove(s) | Garlic (minced, for vinaigrette) |
| 2 clove(s) | Garlic (minced, for vinaigrette) |
| 1 cup whole | Green olives (nicoise) |
| 1 cup whole | Green olives (nicoise) |
| 1/2 medium | Lemon (juiced, vinaigrette) |
| 1/2 medium | Lemon (juiced, vinaigrette) |
| 1 cup | Mung beans, raw (drained, rinsed) |
| 1 cup | Mung beans, raw (drained, rinsed) |
| 2 tbsp | Parsley, fresh (chopped fresh flat-leaf, for vinaigrette) |
| 2 tbsp | Parsley, fresh (chopped fresh flat-leaf, for vinaigrette) |
| 4 small potato(s) | Red potato (scrubbed and halved) |
| 4 small potato(s) | Red potato (scrubbed and halved) |
| 3 tbsp | Red wine vinegar (for vinaigrette) |
| 3 tbsp | Red wine vinegar (for vinaigrette) |
| 1 tsp | Salt (1/2 tsp for vinaigrette+ 1/2 tsp for tuna) |
| 1 tsp | Salt (1/2 tsp for vinaigrette+ 1/2 tsp for tuna) |
| 2 tbsp, leaves | Tarragon, dried (for vinaigrette) |
| 2 tbsp, leaves | Tarragon, dried (for vinaigrette) |
| 3 tbsp | Wine vinegar (vinaigrette) |
| 3 tbsp | Wine vinegar (vinaigrette) |
| 12 tomato | Cherry Tomatoes (halved) |
| 12 tomato | Cherry Tomatoes (halved) |
Instructions
To make the vinaigrette: combine all vinaigrette ingredients in a mason jar. Screw the cap on the jar and shake the vinaigrette vigorously to emulsify. Set the dressing aside while preparing the salad so the flavours can marry.

Place potatoes in a pot, cover with excess water, add a pinch of salt and bring it to a boil on medium heat. Cover pot and let the potatoes simmer for about 12 minutes.

Add eggs to the same pot as potatoes. Place a steamer basket or colander on top of the simmering water. Put the green beans in the steamer and cover with a lid. Steam the beans for 5 minutes until crisp-tender while continuing to cook the potatoes until fork tender.

Drain out the water and put the potatoes, eggs, and beans in a colander; rinse with cold water. Peel the shells off the eggs and cut them in half lengthwise. Cut the potatoes into wedges with the skin intact.

Place a large skillet over medium-high heat. Rub the tuna on all sides with olive oil, and a bit of the vinaigrette; season with a fair amount of salt and pepper. Lay the tuna in the hot pan and sear for approximately 2 minutes on each side; Transfer the tuna to a cutting board and slice.

Combine the potatoes, green beans, tomatoes, olives, anchovies, capers, and chives in a large mixing bowl. Drizzle the salad with desired amount of vinaigrette. Toss gently to coat; season with salt and pepper. Put the tossed salad down the center of a serving platter and lay the seared tuna attractively across the top and the eggs around the rim. Drizzle with the remaining vinaigrette and serve.
Nutrition Facts
Per Portion
Calories from saturated fat
40
Polyunsaturated Fat
3.5 g
Monounsaturated Fat
13.0 g
Total Carbohydrate
27.5 g
Dietary servings
Per Portion
| | |
| --- | --- |
| Meat | 2.1 |
| Meat Alternative | 1.2 |
| Vegetables | 3.1 |
Energy sources
About
Contact Us
Meal Garden, 326 1/2 Bloor Street West, Unit 4, Toronto, Ontario, M5S 1W5, Canada