Egg Muffin Cups
11
25
58
Ingredients
Minutes
Calories
Prep
Cook
Servings
10 min
15 min

12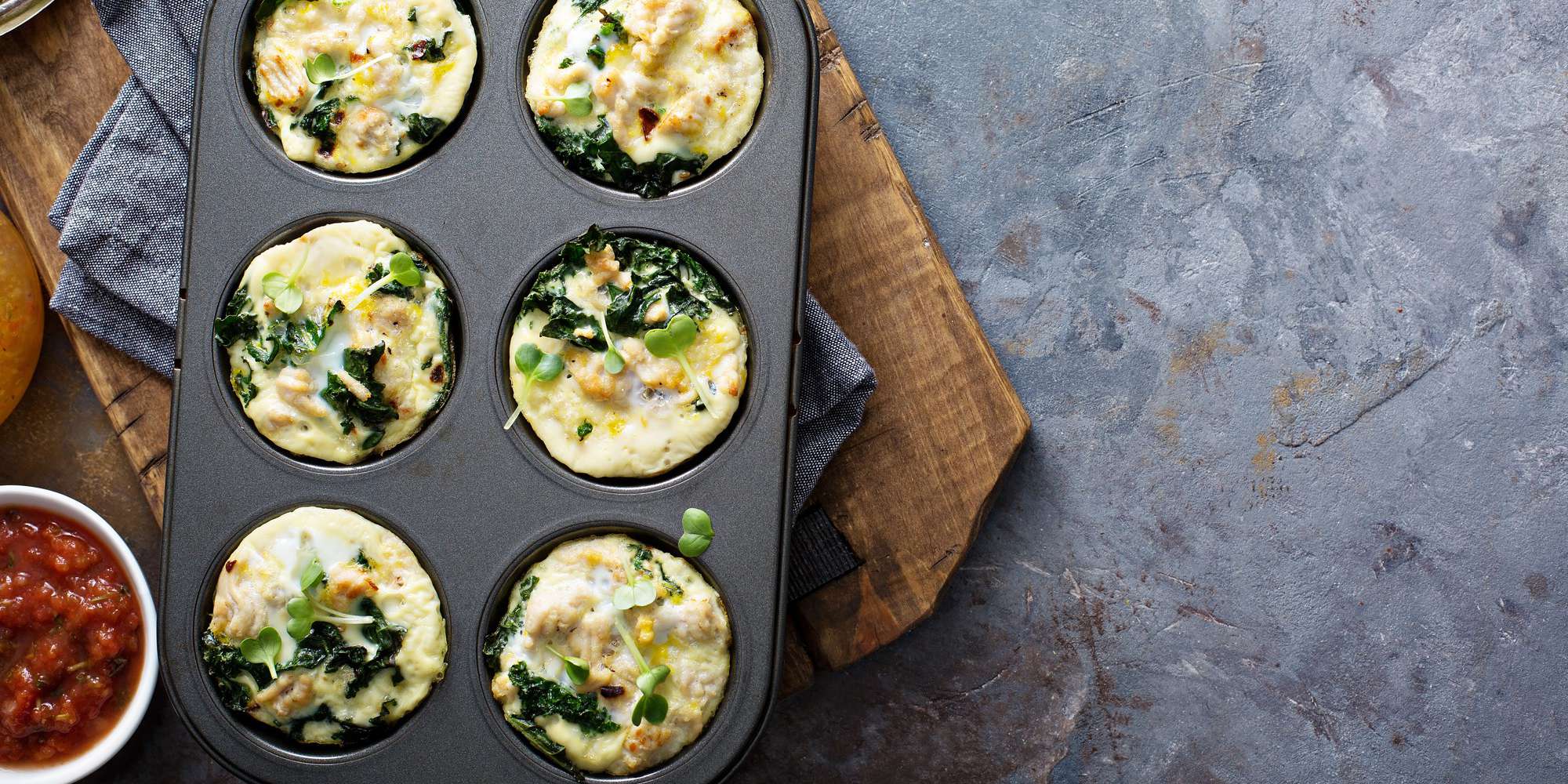 The perfect protein-rich and filling make-ahead breakfast.
Ingredients
| | |
| --- | --- |
| 4 spray (about 1/3 second) | Cooking spray, vegetable oil |
| 1 cup chopped | Red bell pepper |
| 1 cup chopped | Green bell pepper |
| 1 cup | Yellow onion (chopped) |
| 1 cup | White mushrooms (chopped) |
| 2 cup | Baby spinach (roughly chopped) |
| 2 clove(s) | Garlic (minced) |
| 4 large egg | Egg white |
| 4 large egg | Egg |
| 1 tbsp | Olive oil |
| 1/4 tsp | Salt (to taste) |
Instructions
1. Preheat the oven to 350F degrees and grease a 12-cup muffin pan with cooking spray.
2. Prep all your veggies: chop red pepper, green pepper, yellow onion, mushrooms, baby spinach and set aside separated. Mince garlic.
3. Crack the eggs. Use 4 whole eggs and 4 egg whites. Whisk all the eggs together in a large four cup measuring cup (or bowl) and set aside. Whisking the eggs in the measuring cup makes pouring the mixture into the muffin pan easier later on!
4. Heat a nonstick pan over medium heat. Once hot, add in olive oil. Then add in the red pepper, green pepper, yellow onion, and salt. Saute for about 5-7 minutes, or until the peppers are tender.
5. Add in spinach and mushrooms and cook for another 2 minutes. In the last 30 seconds, add in minced garlic. Taste and re-season with salt if necessary!
6. Pour the cooked veggies into the whisked eggs. Stir to combine. If you like, you could even add in a little hot sauce.
7. Pour the egg/veggie mixture evenly into the muffin pan holes. You'll have enough for all 12 muffin slots.
8. Bake for about 15 minutes, or until the tops are firm to the touch or if an inserted toothpick comes out clean.
9. Let cool in the pan for a few minutes, before removing. Serve immediately or let finish cooling on a cooling rack. Check notes for storage instructions.
Enjoy!
Notes:
Quick Tips:
You can add different veggies, some cooked ham or smoked salmon. Just place in muffin cups before pouring in the egg/ veggie mixture.
Serving
1 meal serving would be 2-3 muffin cups. You can serve with a salad, 1/4 avocado and toast for a hearty breakfast or lunch.
Safety
Raw eggs may contain harmful bacteria. They should be cooked to an internal temperature of at least 74C or 165F degrees to ensure they are safe to eat.
Storage
Store in an airtight container in the fridge for no longer than 4 days. You can also store these egg muffins individually in the freezer for up to 3 months! To thaw, remove from the freezer the night before and store in the refrigerator. Then just pop it in the microwave or oven in the morning until fully warmed through.
Nutritional Highlights:
Eggs
Eggs contain choline, an important B vitamin to help build the membranes of our cells and is essential for brain health. They are also high in bioavailable protein, other B vitamins, selenium, vitamin D, calcium and zinc.
Nutrition Facts
Per Portion
Calories from saturated fat
6.5
Polyunsaturated Fat
0.4 g
Monounsaturated Fat
1.6 g
Dietary servings
Per Portion
| | |
| --- | --- |
| Meat Alternative | 0.4 |
| Vegetables | 0.8 |
Energy sources