Singapore Zoodle Stir Fry with Chicken & Shrimp
17
30
355
Ingredients
Minutes
Calories
Prep
Cook
Servings
10 min
20 min

4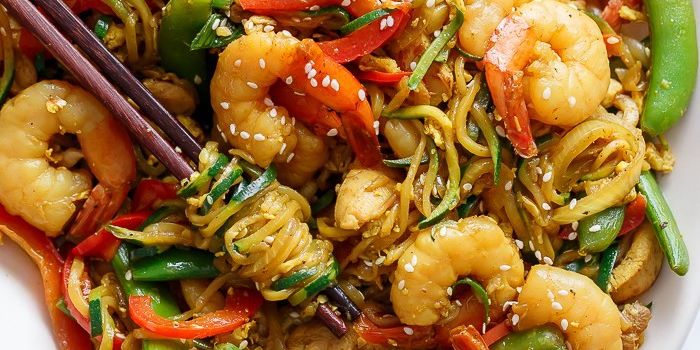 Low carb stir-fry dinner with veggies.
Ingredients
| | |
| --- | --- |
| 1/4 cup | Soy sauce (or tamari for gluten-free) |
| 2 tbsp | Rice wine |
| 2 clove(s) | Garlic (minced) |
| 1/2 tsp minced | Ginger root |
| 1 tsp | Granulated sugar (or coconut sugar) |
| 256 gm | Shrimp, raw |
| 256 gm | Chicken thighs, boneless, skinless |
| 2 tbsp | Olive oil |
| 2 medium egg | Egg (lightly whisked) |
| 2 tsp | Curry powder |
| 1 small | Yellow onion (thinly sliced) |
| 1 medium pepper(s) | Red bell pepper (halved, deseeded, thinly sliced) |
| 100 gm | Sugar snap peas (stemmed, strings removed) |
| 60 gm | Bean sprouts |
| 3 large | Zucchini (spirilized into noodle/spaghetti/angel hair thickness) |
| 1 tbsp | Green onion, scallion, ramp (thinly sliced, for garnish) |
| 1 tbsp | Sesame seeds (for garnish) |
Instructions
1. Prepare all vegetables and have everything ready before cooking.
2. Whisk together soy sauce, rice wine, garlic, ginger and sugar and set aside.
2. Pat the shrimp dry with a paper towel. Pour 2 tablespoons sauce over shrimp; mix through to evenly coat. Set aside.
3. Add 1 tablespoon of sauce to chicken strips. Stir through to evenly coat. Set aside.
4. Heat 1 teaspoon of oil in a wok or skillet over high heat. Add the whisked eggs, swirling pan to create an omelette. When omelette has set; break up into small pieces using a spatula or wooden spoon. Remove from pan and set aside. Use paper towel to wipe the wok clean.
5. Add the chicken strips; stir fry for 3-4 minutes or until cooked through. Transfer to a warm plate. Add another teaspoon of oil to wok/skillet; stir fry the shrimp for about 2-3 minutes, or until just turned pink and opaque in colour. (Do not over cook them). They should have a U-shape to them if properly cooked). Remove from pan and set aside.
6. Heat the remaining oil in the wok over high heat. Add curry powder and stir-fry for 30 seconds or until fragrant. Add onions, bell peppers, snap peas, and bean spouts and stir-fry for 2-3 minutes or until the onion and snap peas begins to soften.
7. Add the zoodles (zucchini noodles) and the remaining sauce. Stir fry for about 2 minutes until the zoodles are just beginning to soften (they will release a lot of water if over cooked). Add the reserved egg, chicken and shrimp; mix all ingredients through together. Season with salt (if needed), and garnish with green onion and sesame seeds to serve.
Notes:
Quick Tips:
Don't want to use zoodles? You can use regular soba noodles instead.
Safety
Never eat poultry that is raw, or not cooked through. Internal temperature of chicken should be 165F or 74C degrees.
Nutrition Facts
Per Portion
Calories from saturated fat
25.9
Polyunsaturated Fat
2.9 g
Monounsaturated Fat
7.4 g
Total Carbohydrate
18.3 g
Dietary servings
Per Portion
| | |
| --- | --- |
| Meat | 1.4 |
| Meat Alternative | 0.3 |
| Vegetables | 5.1 |
Energy sources