Smoked Paprika & Turmeric Roast Chicken Thighs
9
105
503
Ingredients
Minutes
Calories
Prep
Cook
Servings
15 min
1 h 30 min

8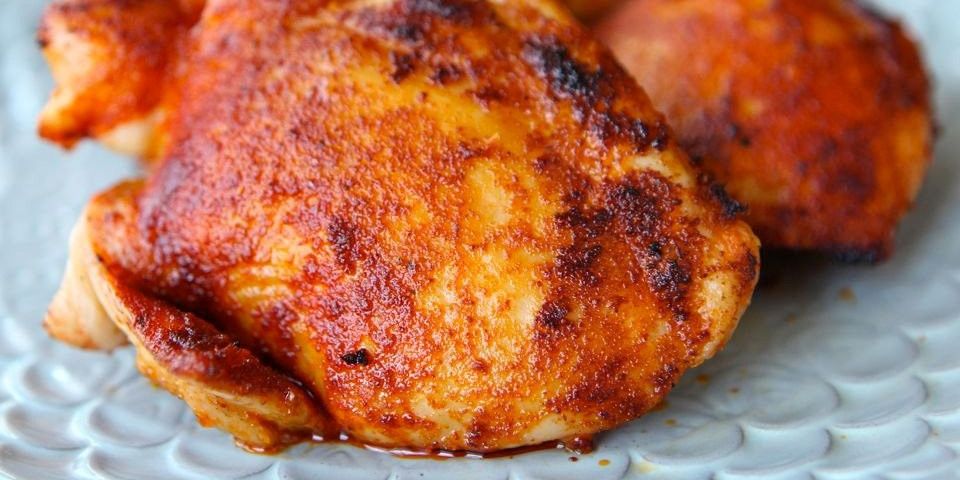 An easy chicken dinner that's loaded with flavour and anti-inflammatory benefits.
Ingredients
| | |
| --- | --- |
| 8 thigh(s) | Chicken thighs, with skin (Organic if available) |
| 1/4 cup | Olive oil |
| 2 whole lime(s) | Lime juice (fresh) |
| 3 piece, 1-inch | Ginger root (grated) |
| 2 piece, 1-inch | Turmeric root (grated) |
| 6 clove(s) | Garlic (minced) |
| 2 tbsp | Paprika, smoked |
| 1 tbsp | Salt |
| 1 tbsp | sumac, ground |
Instructions
1. Prep your chicken 1 day ahead of time by making your marinade: add the olive oil, lime juice, ginger, turmeric, garlic, smoked paprika, salt and sumac into a small bowl and whisk until everything is combined.

2. Wash the chicken and pat it dry and put in a Ziploc bag or a glass jar and add all of the marinade. Close the bag and massage (or shake) until every piece of chicken is covered with the marinade. Put chicken in the fridge and let marinate for at least 24 hours.

3. The next day when you are ready to cook your chicken pre-heat the oven to 350 degrees F and line a deep baking dish with parchment paper.

4. Pour the chicken plus marinade into the baking sheet and bake in the oven for 2 hours (uncovered).

5. When cooked remove from the baking dish and put on a serving platter, drizzle some of the pan juices on the chicken thighs & and serve with your side of choice, such as quinoa, sauteed vegetables or rice!
Notes:
Quick Tips:
This is a prep-ahead meal if you make enough ahead of time and freeze leftovers you can have meals ready for a couple of weeks. Just heat it up when you're ready to eat.

Serve with quinoa, rice, potatoes, roasted vegetables or salad.
---
Nutritional Highlights:
Spices
Adding spices to your dinner is a great option for better circulation. Most spices also have plant compounds that are beneficial for overall health and well-being.
Nutrition Facts
Per Portion
Calories from saturated fat
88
Polyunsaturated Fat
7.6 g
Monounsaturated Fat
18.4 g
Dietary servings
Per Portion
Energy sources