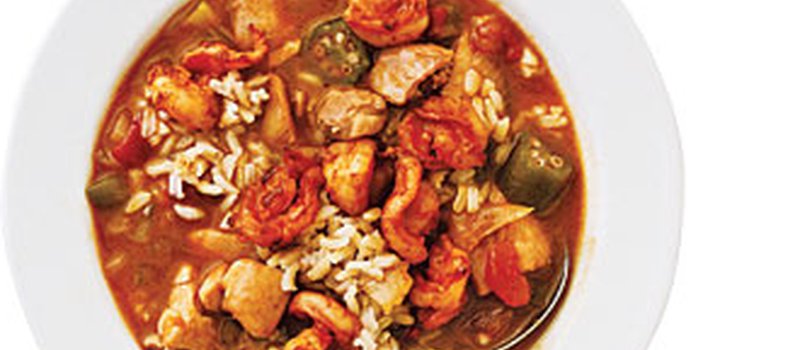 Smokey Shrimp & Chicken Gumbo
Prep
Cook
Ready in
Servings
30 min
2 h 10 min
2 h 40 min

8
Ingredients
| | |
| --- | --- |
| 454 gm | Shrimp, raw (unpeeled, for stock) |
| 8 cup | Water (for stock) |
| 1 tsp | Peppercorn (for stock) |
| 4 clove(s) | Garlic (crushed, for stock) |
| 3 large stalk(s) | Celery (chopped, for stock) |
| 3 leaf | Bay leaf (for stock) |
| 3 medium | Carrots (coarsely chopped) |
| 1 large | Yellow onion (chopped) |
| 6 tbsp | Canola oil (for gumbo) |
| 1/2 cup | All-purpose white flour (for gumbo) |
| 6 thigh(s) | Chicken thighs, boneless, skinless (cut into bite-sized pieces, for gumbo) |
| 2 cup | White onion (finely chopped, for gumbo) |
| 1 tbsp | Creole seasoning, Zatarain's (for gumbo) |
| 3 clove(s) | Garlic (minced, for gumbo) |
| 2 medium stalk(s) | Celery (chopped, for gumbo) |
| 2 medium | Tomato (finely chopped, for gumbo) |
| 1 medium pepper(s) | Green bell pepper (seeded, finely chopped, for gumbo) |
| 3 cup | Chicken broth (stock), low sodium (for gumbo) |
| 2 leaf | Bay leaf (for gumbo) |
| 1 cup | Okra, frozen (for gumbo) |
| 2 tsp | Worcestershire sauce (for gumbo) |
| 2 tsp | Tabasco sauce (for gumbo) |
| 1/2 tsp | Black pepper (for gumbo) |
| 1/2 tsp | Paprika, smoked (for gumbo) |
| 2 cup | Brown rice, long-grain, cooked (for gumbo) |
Instructions
To prepare the stock, peel and de-vein shrimp, reserving shells. Cut each shrimp in half lengthwise; cover shrimp, and refrigerate.

Combine reserved shrimp shells, 8 cups water, and the rest of the stock ingredients in a large Dutch oven, and bring to a boil. Reduce heat, and simmer for 1 hour. Strain mixture through a sieve into a bowl; discard solids. Set aside 3 cups stock; keep warm. Reserve the remaining shrimp stock for another use.

To prepare the gumbo, heat a large cast-iron skillet over low heat; add 1/4 cup canola oil. Cook for 2 minutes, swirling to coat pan. Weigh or lightly spoon flour into a dry measuring cup. Gradually add flour to oil, stirring constantly with a whisk until smooth. Increase heat to medium; cook for 8 minutes or until the flour mixture is caramel-coloured, stirring frequently. Cook 2 minutes or until mixture is chestnut-coloured, stirring constantly. Remove from heat; slowly add warm shrimp stock, stirring until smooth. Pour stock mixture into a large bowl.

Heat 1 tablespoon oil in a large Dutch oven over medium heat. Add chicken; cook 7 minutes, turning to brown on all sides. Add onion and the next 5 ingredients (through bell pepper); sauté for 3 minutes. Return stock mixture to pan; add broth and bay leaves. Bring to a boil; reduce heat, and simmer for 45 minutes.

Add okra and next 3 ingredients (through black pepper). Simmer for 30 minutes.

Combine shrimp and paprika; toss to coat shrimp. Heat a large nonstick skillet over medium-high heat. Add remaining 1 tablespoon oil to pan; swirl to coat. Add shrimp; sauté for 2 minutes or until the shrimp are done. Stir shrimp into okra mixture. Discard bay leaves.

Serve over rice and enjoy!
Nutrition Facts
Per Portion
Calories from saturated fat
19.0
Polyunsaturated Fat
4.7 g
Monounsaturated Fat
8.1 g
Dietary servings
Per Portion
| | |
| --- | --- |
| Grain | 0.9 |
| Meat | 1.5 |
| Vegetables | 2.7 |
Energy sources
About
Contact Us
Meal Garden, 326 1/2 Bloor Street West, Unit 4, Toronto, Ontario, M5S 1W5, Canada