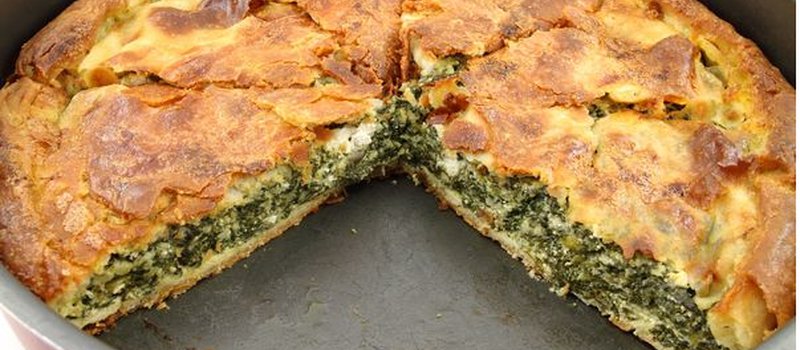 Spanakopita
Prep
Cook
Ready in
Servings
20 min
25 min
45 min

8
Ingredients
| | |
| --- | --- |
| 2 bunch | Spinach |
| 1/4 cup | Water |
| 1/8 tsp | Cayenne pepper |
| 2 large egg | Egg (beaten) |
| 1 1/2 cup, crumbled | Feta cheese |
| 3 clove(s) | Garlic (minced) |
| 3/4 cup | Greek yogurt, plain, 2% M.F. |
| 4 stalk(s) | Green onion, scallion, ramp (thinly sliced) |
| 1 tbsp | Lemon juice |
| 1 tsp | Lemon peel (zest) |
| 1/4 cup | Mint, fresh (minced) |
| 1 tsp | Nutmeg, ground |
| 1 medium | Red onion (chopped) |
| 1/4 tsp | Salt |
| 5 tbsp | Butter, vegan (melted) |
| 1/4 cup grated | Pecorino cheese |
| 16 thin sheet(s) | Phyllo dough |
Instructions
Preheat the oven to 425°F. Grease a pie or cake pan with melted butter. Lay one phyllo sheet on the buttered pan, pressing the dough into the corners and letting the edges hang over the edge of the pan. Repeat with 9 more phyllo sheets, brushing each with butter until you have a total of 10 layers of phyllo.
Spread the spinach mixture evenly over the phyllo. Fold the edges of the bottom layer of phyllo over the filling. Add 6 more phyllo sheets to the top, brushing each with butter and sprinkling each with 2 tablespoons Pecorino cheese. Add 2 final phyllo sheets, brushing them with butter, but not sprinkling with the Pecorino. Trim the edges, then use a spoon to neaten the edges of the pastry case.
Use a sharp knife to score the pie through the top 3 layers of phyllo into 8 even pieces of pie.
Bake 20 to 25 minutes, or until the phyllo is golden and crisp. Let cool for at least 10 minutes before serving.
Advanced Preparation
1 - 3 days prior [optional], Spinach 2 bunch
Instructions:
Place the spinach and water in a large microwave-save bowl. Cover the bowl with a large dinner plate. Microwave on high until the spinach is wilted and decreased in volume by half (about 5 minutes). Carefully remove the bowl from the microwave and keep covered for 1 minute.
Remove the plate and transfer the spinach to a colander in the sink. Using the back of a rubber spatula, press the spinach against the colander to release the excess liquid. Transfer the spinach to a cutting board and roughly chop. Wrap the spinach in paper towels and squeeze to remove excess water. Transfer the spinach to a large bowl. Add the remaining ingredients (except the butter, pecorino cheese, and phyllo pastry) to the bowl and mix until thoroughly combined.
Nutrition Facts
Per Portion
Calories from saturated fat
62
Polyunsaturated Fat
0.9 g
Monounsaturated Fat
3.9 g
Total Carbohydrate
28.3 g
Dietary servings
Per Portion
| | |
| --- | --- |
| Grain | 1.9 |
| Meat Alternative | 0.1 |
| Milk Alternative | 0.9 |
| Vegetables | 3.0 |
Energy sources
About
Contact Us
Meal Garden, 326 1/2 Bloor Street West, Unit 4, Toronto, Ontario, M5S 1W5, Canada