Spicy Chickpea Buddha Bowl
17
25
1906
Ingredients
Minutes
Calories
Prep
Cook
Servings
5 min
20 min

1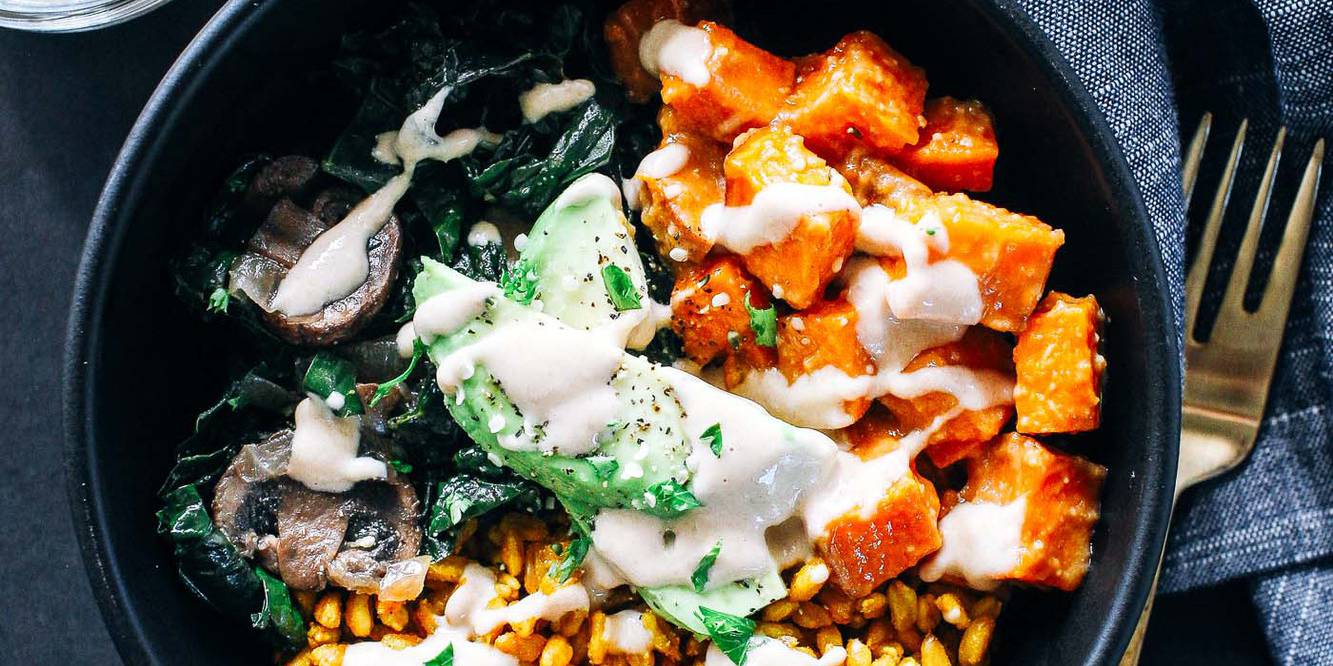 A beautiful balanced bowl that combines creamy textures, spicy flavours and lean proteins, grains and vegetables. It's harmony in a bowl
Ingredients
| | |
| --- | --- |
| 1 cup | Chickpeas, boiled (Buffalo Chickpeas *see notes) |
| 1 cup | Brown rice, long-grain, dry (boiled) |
| 1/2 cup | Portobello mushroom (button mushrooms will do) |
| 1 clove(s) | Garlic (minced) |
| 1 tbsp | Tamari, gluten free, reduced sodium |
| 1 tsp minced | Ginger root |
| 1/2 avocado(s) | Avocado |
| 1 cup | Sweet potato (cut into cubes) |
| 2 cup | Spinach |
| 2 tbsp | Cashew nuts, raw |
| 2 green onion (stem) | Green onion, scallion, ramp (chopped) |
| 1/4 cup | Tahini |
| 1 tsp | Garlic powder |
| 1 tbsp | Maple syrup |
| 1 tsp | Tamari, gluten free, reduced sodium (or regular soy sauce) |
| 1 tsp hulled | Hemp seeds, shelled (sprinkled on top) |
| 1/4 cup cubes | Tofu, silken, firm |
Instructions
1. Boil rice ahead and use pre-baked potato, just cut into cubes.
2. Use the Buffalo chickpea recipe.
3. In a medium bowl, add cooked rice on the bottom.
4. In a medium sauce pan, reheat the chickpeas... feel free to add a little extra sauce or coconut oil. Remove from heat and layer on top of rice, placing close to the edge to make room for other ingredients.
5. Rinse saucepan and add a bit of coconut oil. Sautee mushrooms and add garlic and ginger. Optional to add chopped onion or other veggies to the mix and splash on 1 tbsp tamari. Stir well. Remove from heat. Layer in bowl, close to the edges.
6. Add another splash of coconut oil. Add tofu and cashews... Cook cubed tofu on all sides until slightly brown. Add to bowl.
7. Using same sauce pan, add rinsed spinach. Just toss to let it wilt a little. Remove from heat and add to bowl.
8. In a separate bowl, add tahini, maple, tamari, and garlic powder. Whisk to make a smooth consistency. Pour over ingredients in bowl.
9. Slice avocado on top, sprinkle sesame and or hemp and add chopped green onions. Enjoy!
Nutrition Facts
Per Portion
Calories from saturated fat
88
Polyunsaturated Fat
22.1 g
Monounsaturated Fat
29.0 g
Dietary servings
Per Portion
| | |
| --- | --- |
| Grain | 6.0 |
| Meat Alternative | 4.3 |
| Vegetables | 7.9 |
Energy sources
Recipe from:
http://makingthymeforhealth.com/miso-glazed-sweet-potato-bowls/