Spicy Mussel Soup
11
15
559
Ingredients
Minutes
Calories
Prep
Cook
Servings
0 min
15 min

3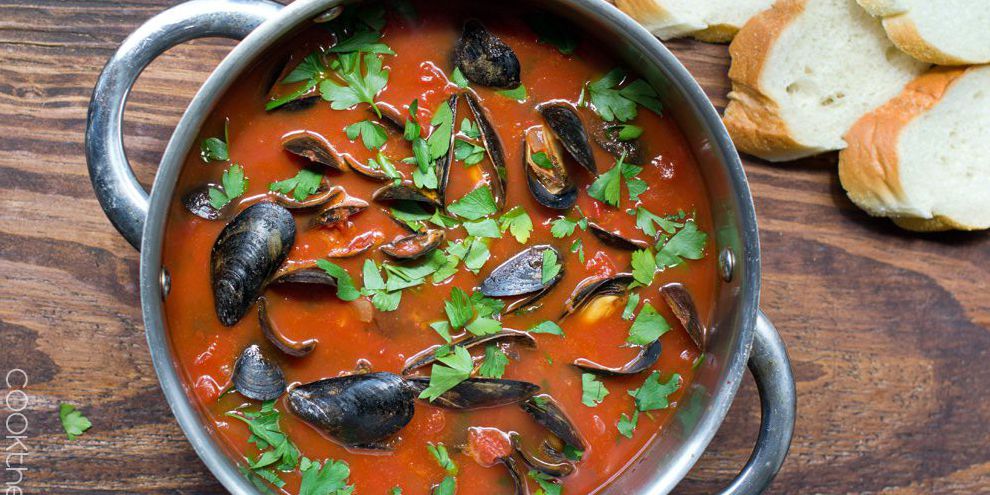 Mussels are a great protein for a busy weeknight because they cook so quickly. Try them in this quick soup with some paleo 'bread'. Yield 12 cups.
Ingredients
| | |
| --- | --- |
| 1 tbsp | Olive oil |
| 1 small | White onion |
| 1/2 cup | Parsley, fresh (a handful) |
| 3 clove(s) | Garlic |
| 1/2 tsp | Red pepper flakes (to taste) |
| 1/2 cup | White wine, dry |
| 1 can(28oz) | Crushed tomatoes canned |
| 1 can(s) (28oz) | Diced tomatoes, canned (low sodium ) |
| 2 cup | Chicken broth (stock), low sodium |
| 1/2 tsp | Salt |
| 908 gm | Blue mussel (fresh) |
Instructions
Heat the olive oil in a large pot or Dutch oven over medium heat. peel and chop the onion and add it. Chop the parsley and set it aside. Mince the garlic cloves. Add garlic to onions along with red pepper flakes. Stir. Let cook for 30 seconds. Add the wine. Stir.
Open the cans of crushed and diced tomatoes and add them to the pot along with the chicken broth, salt and half of the chopped parsley. Stir, cover and increase heat to high. Cook until it reaches a boil. Reduce to a heavy simmer.
While the soup heats up, remove the beards from the mussels (just pull off the thread that runs along them, if that thread is there) and gently scrape off any barnacles. Put them in a colander and rinse with cold water. If any mussels are open, tap them. If they close they're fine. If they stay open, discard.
Once the soup is simmering, add the mussels. Cook until all mussels have opened. If most have opened, discard any that have stayed closed. Ladle into bowls and sprinkle with remaining parsley.
Nutrition Facts
Per Portion
Calories from saturated fat
21.4
Polyunsaturated Fat
3.0 g
Monounsaturated Fat
5.1 g
Dietary servings
Per Portion
Energy sources