Spicy Sweet Potato Black Bean Burger
18
65
331
Ingredients
Minutes
Calories
Prep
Cook
Servings
55 min
10 min

6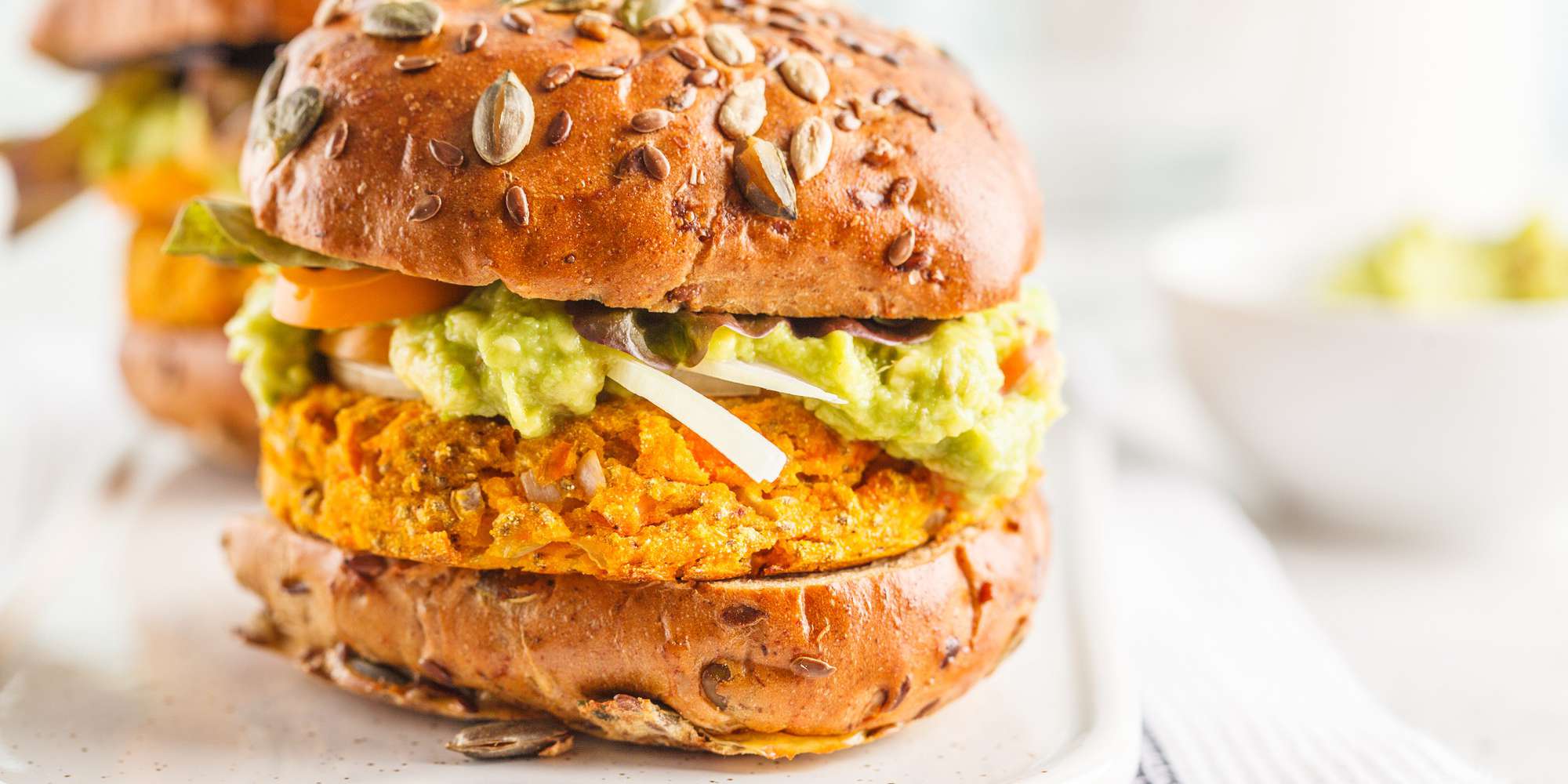 You're going to love this healthy plant-based burger alternative!
Ingredients
| | |
| --- | --- |
| 1/2 cup | Quinoa, uncooked |
| 1 large potato | Sweet potato |
| 1/2 medium pepper(s) | Jalapeno pepper (seeded, diced) |
| 1 can (15oz) | Black beans, canned (drained, rinsed) |
| 1/2 cup | Red onion (diced) |
| 1/2 cup | Cilantro (coriander) (chopped) |
| 2 clove(s) | Garlic (minced) |
| 1 tsp | Cumin |
| 2 tsp | Cajun spice/seasoning, Topco (Club House) |
| 1 pinch | Salt and pepper (to taste) |
| 1/4 cup | Oat flour (or gluten free) |
| 1/4 cup | Sour cream, fat free (for avocado-cilantro crema) |
| 2 tbsp | Cilantro (coriander) (for avocado-cilantro crema) |
| 1 tsp | Lime juice (fresh) (for avocado-cilantro crema) |
| 1 pinch | Salt and pepper (for avocado-cilantro crema) |
| 1 tsp | Coconut oil (for cooking) |
| 6 bun | Hamburger bun, mixed grain (or gluten free) |
| 1/2 avocado(s) | Avocado (diced, for avocado-cilantro crema) |
Instructions
1. To cook quinoa: rinse the quinoa with cold water in mesh strainer. In a medium saucepan, over medium to high heat, bring 1 cup of water to a boil. Add in quinoa and bring mixture to a boil. Cover, reduce heat to low and let simmer for 15 minutes or until quinoa has absorbed all of the water. Remove from heat and fluff quinoa with fork; place in large bowl and set aside to cool for about 10 minutes. You should have about 1 1/2 cups of quinoa.
2. Poke your sweet potato several times with a fork and place in microwave for about 3-4 minutes or until it is soft and cooked thoroughly. Do not overcook or the sweet potato will harden. Alternatively, you can roast the sweet potatoes in the oven at 400 degrees F for 30 minutes or until fork-tender. Remove skin when it's done cooking and cooled.
3. Prep your jalapeno. Add beans, cooked sweet potato, red onion, cilantro, garlic, cumin, cajun seasoning into a food processor and pulse until almost smooth, scraping down the sides of the processor when necessary.
4. Transfer the burger mixture to a large mixing bowl and combine with cooked quinoa. Add salt and pepper to taste - and possibly more cajun seasoning if you'd like.
5. Mix in oat flour, but only enough so that you are able to shape patties. (You shouldn't need more than 1/3 cup). Divide into 6 patties (about 1/2 cup each) and place on parchment paper on baking sheet; refrigerate for at least 30 minutes to help patties bind together.
6. Meanwhile, make your avocado-cilantro crema by adding sour cream, diced avocado, cilantro, and lime juice into your food processor or high-powered blender. Process until smooth. Add salt to taste. Place in fridge until ready to serve burgers.
7. To cook burgers: Heat skillet over medium-high heat. Spray a pan with coconut/olive/canola oil cooking spray. Place the patty into your skillet and cook for about 3-4 minutes on each side, or until golden brown. Serve with buns, sprouts, crema and desired toppings. Freeze leftovers.
Nutrition Facts
Per Portion
Calories from saturated fat
16.8
Polyunsaturated Fat
1.6 g
Monounsaturated Fat
3.4 g
Dietary servings
Per Portion
| | |
| --- | --- |
| Grain | 2.2 |
| Meat Alternative | 0.4 |
| Milk Alternative | 0.2 |
| Vegetables | 1.4 |
Energy sources
Notes:
Quick Tips:
Cajun seasoning can be bought on Amazon or in your spices section in your local grocery store. Clubhouse has a great cajun seasoning. You can also large-batch this recipe and freeze leftover burger patties before cooking.
Nutritional Highlights:
Plant-based
Reducing your meat intake can help with your overall health and wellness and the health of the planet. Try to aim for one meat-free day a week!