Spicy Tomato Arrabiata Sauce
13
20
536
Ingredients
Minutes
Calories
Prep
Cook
Servings
10 min
10 min

1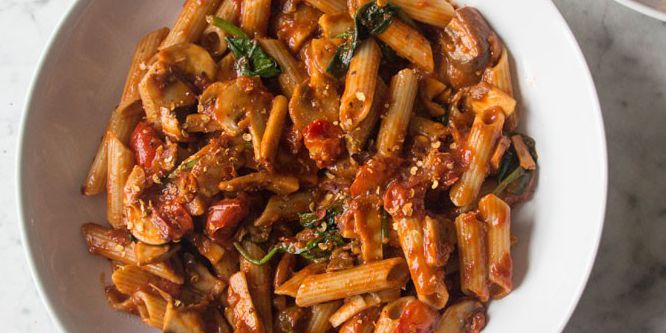 An upcycled sauce made using leftover bruschetta. The bruschetta could easily be replaced with tomato, olive oil, Italian seasoning, red onions and basil.
Ingredients
| | |
| --- | --- |
| 1/4 cup | Tomato-Basil Bruschetta Topping, President's Choice |
| 1 can, 28 oz | Tomato puree, canned |
| 5 piece | Sun-dried tomatoes (soaked and chopped) |
| 1 1/2 tbsp | Sriracha |
| 1/4 small | Red onion (chopped) |
| 5 small mushroom(s) | Button mushrooms (quartered) |
| 2 large stalk(s) | Celery (chopped) |
| 1 medium | Carrots (chopped) |
| 1 cup | Spinach |
| 1 tsp | Garlic powder |
| 1 tsp | Italian herb seasoning, McCormick |
| 1 tbsp | Parsley, fresh (for garnish) |
| 1 tbsp | Water, filtered (or as needed) |
Instructions
Boil noodles in a separate sauce pan according to directions. I use protein pasta to get more protein packed goodness in my pasta, if you have left over noodles or zoodles (zucchini noodles), use them and save yourself the hassle.
In a medium saucepan, add a little coconut oil to line pan and heat on medium.
Add chopped carrots first, stir and let cook a little before adding onions and mushrooms. Cook until onions are softer. Add in chopped sun-dried tomato and mix around, feel free to add a dash of water to pan to keep things moist and prevent sticking.
Add in celery and let cook a little. Stir in a little water before adding tomato paste and adding bruschetta mix.
Stir around until everything is cooking, it should be a bit thick and chunky. Add in spices (except fresh parsley) and sriracha. Feel free to modify ingredients to your liking and desired spiciness.
Stir in spinach last and let wilt a little before removing from heat.
Serve and feel free to sprinkle with rawmesan cheese or nutritional yeast
Nutrition Facts
Per Portion
Calories from saturated fat
3.2
Polyunsaturated Fat
1.1 g
Monounsaturated Fat
0.4 g
Dietary servings
Per Portion
Energy sources