Spinach Mushroom & Feta Crustless Quiche
9
60
157
Ingredients
Minutes
Calories
Prep
Cook
Servings
15 min
45 min

6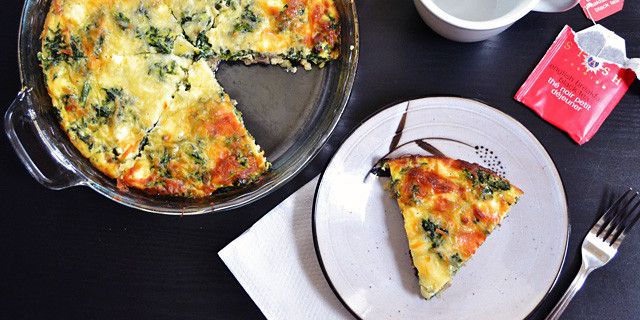 Organic Dairy - is produced without the use of pesticides, synthetic fertilizers and antibiotics! - try and make this switch if possible!
Ingredients
| | |
| --- | --- |
| 227 gm | Button mushrooms |
| 1 clove(s) | Garlic (minced) |
| 1 package (10oz) | Frozen spinach (thawed) |
| 4 large egg | Egg |
| 1 cup | Partly skimmed milk, 1% M.F. |
| 57 gm | Feta cheese, low fat |
| 1/4 cup | Parmesan cheese, grated |
| 1/2 cup, shredded | Mozzarella cheese, partially skimmed |
| 1 pinch | Salt and pepper |
Instructions
1. Preheat the oven to 350ºF.
2. Squeeze the excess moisture from the thawed spinach. Rinse any dirt or debris from the mushrooms, then slice thinly. Mince the garlic.
3. Add the mushrooms, garlic, and a pinch of salt and pepper to a non-stick skillet spray lightly with non-stick spray (or a splash of cooking oil). Sauté the mushrooms and garlic until the mushrooms are soft and all of their moisture has evaporated away (5-7 minutes).
4. Coat a 9-inch pie dish with non-stick spray. Place the squeeze-dried spinach in the bottom of the pie dish. Place the sautéed mushrooms on top of the spinach, followed by the crumbled feta.
5. In a medium bowl, whisk together the eggs, milk, and Parmesan. Season lightly with pepper. Pour the egg mixture over the vegetables and feta in the pie dish. Top with the shredded mozzarella.
6. Place the pie dish on a baking sheet for easy transfer in and out of the oven. Bake the crustless quiche for 45-55 minutes, or until the top is golden brown (ovens may vary). Cut into six slices and serve.
Notes:
Eggs
are a great source of protein to help kick start your energy for the day!
Nutrition Facts
Per Portion
Calories from saturated fat
34
Polyunsaturated Fat
0.8 g
Monounsaturated Fat
2.8 g
Dietary servings
Per Portion
| | |
| --- | --- |
| Meat Alternative | 0.4 |
| Milk | 0.2 |
| Milk Alternative | 0.5 |
| Vegetables | 1.0 |
Energy sources