Steamed Whitefish with Black Bean and Ginger Sauce
8
22
206
Ingredients
Minutes
Calories
Prep
Cook
Servings
10 min
12 min

4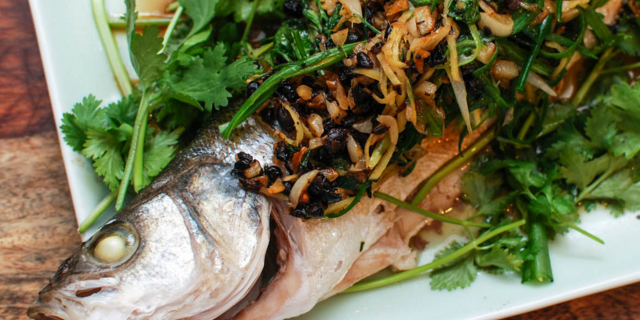 Ingredients
| | |
| --- | --- |
| 1 tbsp | Fermented black beans (chopped) |
| 1 clove(s) | Garlic (minced) |
| 1 piece, 1-inch | Ginger root (julienned or shredded) |
| 2 stalk(s) | Green onion, scallion, ramp (thinly sliced) |
| 1/2 medium | Lemon |
| 1/2 tsp | Sesame oil |
| 1 tbsp | Vegetable oil |
| 450 gm | Whitefish (whole) |
Instructions
Clean your fish and pat dry with a kitchen towel. With a sharp knife, make a slit in the belly almost to the tail.

Mix together black bean, garlic, ginger, and half the scallions; stuff the mixture into the slit. Place the fish in a medium-sized plate and pour over with vegetable and sesame oil. Squeeze a bit of lemon juice over the fish.

Fill your wok or skillet with 2 to 3 inches of water and bring to boil. Carefully set your plate on the rack, then cover with the lid. Steam for 10 to 12 minutes, depending on how thick your fish is in the middle. Check for doneness by poking the flesh with a spoon or chopstick at the thickest point; if the flesh flakes off easily, your fish is done.

Garnish with the other half of your scallions and serve immediately.

Enjoy!
Notes:
A flavourful simple recipe with a great source of heart healthy marine omega-3 fats. Serve with parboiled rice for a complete meal.
Nutrition Facts
Per Portion
Calories from saturated fat
13.3
Polyunsaturated Fat
4.2 g
Monounsaturated Fat
2.5 g
Dietary servings
Per Portion
| | |
| --- | --- |
| Fruit | 0.1 |
| Meat | 1.3 |
| Vegetables | 0.2 |
Energy sources