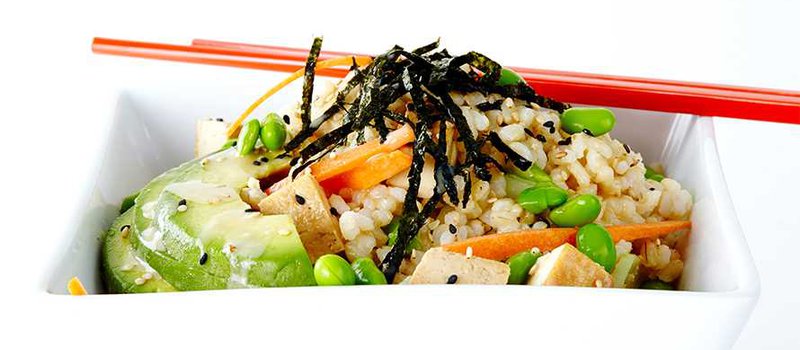 Sushi Salad With Tofu and Brown Rice
Prep
Cook
Ready in
Servings
40 min
1 h
1 h 40 min

6
Ingredients
| | |
| --- | --- |
| 341 gm | Tofu, regular, firm (pressed dry between papper towels, cut into 3/4 inch strips) |
| 2 tbsp | Soy sauce (for tofu) |
| 1 tbsp | Mirin (for tofu) |
| 1 tsp minced | Ginger root (for tofu) |
| 1/2 tsp | Sesame oil (for tofu) |
| 1 1/2 cup | Brown rice, medium-grain, dry |
| 2 3/4 cup | Water (for rice) |
| 2 tbsp | Rice vinegar (for rice) |
| 1 tbsp | Granulated sugar (for rice) |
| 2 tsp | Soy sauce (for rice) |
| 1/4 cup | Rice wine vinegar (for dressing) |
| 1/4 cup | Mayonnaise (for dressing) |
| 2 tbsp | Peanut oil (for dressing) |
| 2 tbsp | Soy sauce (for dressing) |
| 1 tsp | Wasabi paste (for dressing) |
| 1 tsp | Honey (for dressing) |
| 1/2 tsp minced | Ginger root (for dressing) |
| 1 small | Cucumber, peeled (thinly sliced) |
| 1 large | Carrots (peeled and thinly sliced) |
| 1 cup | Frozen edamame (soybeans) (shelled, thawed and drained) |
| 1 avocado(s) | Avocado (pitted, peeled and sliced) |
| 1 sheet | Seaweed, nori (cut into thin strips) |
| 1 tsp | Sesame seeds (toasted) |
Instructions
1. Place tofu in a medium bowl and toss with soy sauce, mirin, ginger and sesame oil. Set aside to marinate for 30 minutes.
2. For the rice:
In a fine-mesh strainer, rinse the rice until the water runs clear.
Combine rice and water in a medium saucepan. Bring to a simmer, then cover and cook over low heat for 40 minutes.
Remove from heat and let steam covered for 5 minutes.
Spread rice on a baking sheet.
In a small bowl whisk rice vinegar, sugar and soy sauce sprinkle vinegar mixture over the rice let cool.

3. Preheat oven to 400ºF. Line a baking sheet with parchment paper and place tofu in a single layer. Bake for 10 minutes, turn tofu and continue to bake 5 minutes more until golden. Remove from oven and set aside.
4. For the Ginger Wasabi dressing: Using a blender, combine rice vinegar, mayonnaise, peanut oil, soy sauce, wasabi paste, honey and ginger until well combined.
5. To assemble salad:
Use 6 individual serving bowls. Place rice in the bottom of each.
Add tofu, cucumber, carrots, edamame and avocado.
Generously drizzle each bowl with dressing and sprinkle with sesame seeds and nori strips to garnish.
Nutrition Facts
Per Portion
Calories from saturated fat
30
Polyunsaturated Fat
8.2 g
Monounsaturated Fat
8.5 g
Dietary servings
Per Portion
| | |
| --- | --- |
| Grain | 1.5 |
| Meat Alternative | 0.6 |
| Vegetables | 1.2 |
Energy sources
Notes:
Tofu
is an important source of protein for vegetarians and vegans.
It is high in iron and calcium.
About
Contact Us
Meal Garden, 326 1/2 Bloor Street West, Unit 4, Toronto, Ontario, M5S 1W5, Canada