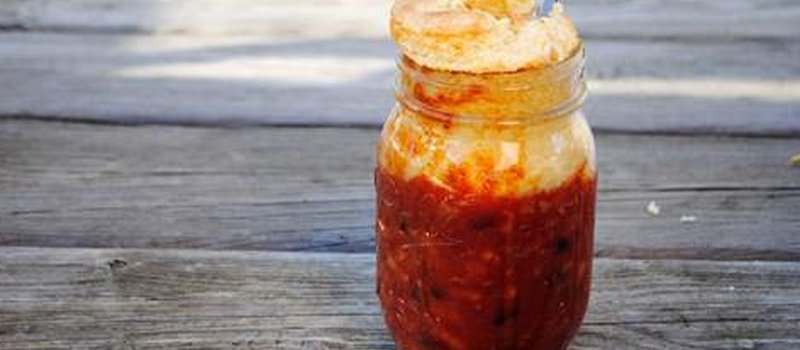 Sweet & Spicy Chili with Cornbread Topping
Prep
Cook
Ready in
Servings
15 min
20 min
35 min

6
Ingredients
| | |
| --- | --- |
| 2/3 cup | All-purpose white flour (for cornbread) |
| 2 cup | Baked beans, canned, unsalted |
| 1/2 tbsp | Baking powder (for cornbread) |
| 1/4 tsp | Baking soda (for cornbread) |
| 454 gm | Beef, ground, extra lean |
| 1 can (15oz) | Black beans, canned (rinsed, drained) |
| 1 1/2 tbsp | Butter, salted (for cornbread) |
| 1/2 cup | Buttermilk, low fat (for cornbread) |
| 1/4 tsp | Cayenne pepper (to taste) |
| 1/8 tsp | Chili powder (to taste) |
| 2/3 cup | Cornmeal (yellow) (for cornbread) |
| 1/8 tsp | Cumin (to taste) |
| 1 large egg | Egg (beaten, for cornbread) |
| 2 clove(s) | Garlic (minced) |
| 1/8 tsp | Garlic powder (to taste) |
| 1 tbsp | Granulated sugar (for cornbread) |
| 1/2 tsp | Kosher salt (for cornbread) |
| 1/4 tsp | Onion powder (to taste) |
| 1/4 tsp | Salt and pepper |
| 2 can(s) (16 oz) | Tomato sauce, canned |
| 1/4 cup | Whole milk 3.3% (for cornbread) |
| 1/2 small | Yellow onion |
Instructions
Heat a large soup pot over medium high heat. Add onion, garlic and ground beef to the pot, season with salt & pepper, then cook, breaking up the ground beef, until no longer pink. Drain well and return to the pan.

Turn the heat down to medium low and add in tomato sauce, black beans and baked beans. Season with chili powder and cayenne pepper to your tastes, then add in dashes of onion powder, garlic powder and cumin. Let the chili simmer for 5-10 minutes, then taste and adjust seasonings if necessary.

Combine cornbread ingredients into a batter. Chose a homemade recipe or a box recipe.

Preheat oven to 375 degrees. Ladle chili into mason jars, then top with cornbread batter, leaving at least 2" clear at the top of the jar. Bake on a cookie sheet for 17-22 minutes, or until toothpick inserted into the middle comes out clean.
Nutrition Facts
Per Portion
Calories from saturated fat
46
Polyunsaturated Fat
1.1 g
Monounsaturated Fat
4.0 g
Dietary servings
Per Portion
| | |
| --- | --- |
| Grain | 1.4 |
| Meat | 0.8 |
| Meat Alternative | 0.9 |
| Vegetables | 2.6 |
Energy sources
About
Contact Us
Meal Garden, 326 1/2 Bloor Street West, Unit 4, Toronto, Ontario, M5S 1W5, Canada