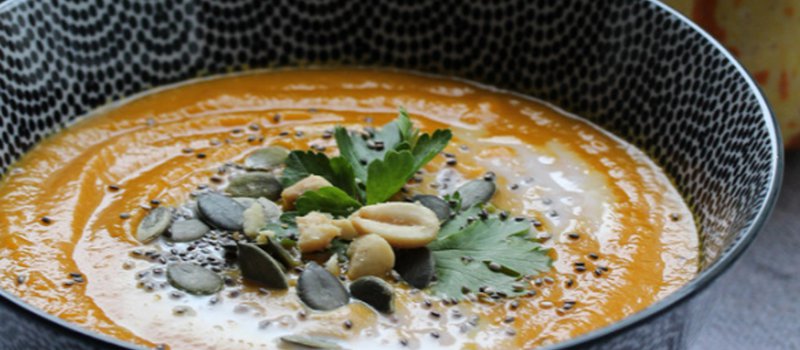 Sweet Potato & Coconut Milk Soup (Kiki's version)
Prep
Cook
Ready in
Servings
10 min
15 min
25 min

3
Ingredients
| | |
| --- | --- |
| 3 medium | Carrots (chopped, optional) |
| 1/8 tsp | Chili powder (to taste, optional) |
| 1/8 tsp | Cinnamon (to taste, optinal) |
| 2 tbsp | Coconut milk |
| 2 cup | Water, filtered |
| 1/8 tsp | Curry powder (to taste, optional) |
| 1/8 tsp | Garlic powder (to taste, optional) |
| 1/8 tsp | Ginger, ground (to taste, optional) |
| 1/8 tsp | Onion powder (to taste, optional) |
| 1 large pepper(s) | Red bell pepper (de-seeded, chopped into large pieces) |
| 1 large potato | Sweet potato (peeled, diced into 1-inch cubes) |
| 1 medium | Zucchini (chopped, or other vegetables) |
| 1 medium head | Cauliflower (chopped - lightly steamed) |
Instructions
1. Place sweet potato cubes in a large microwave-safe bowl or baking dish, add 3/4 cup water or until the water comes up about 1- inch high in the base bowl (the cubes do not need to be fully submerged in water; water simply needs to be present to create steam), cover bowl with plastic wrap, and heat on high-power for 13 to 15 minutes, or until sweet potatoes are very fork-tender (microwave temperatures and strengths vary and so will cooking times).
2. Transfer cooked potatoes to a high-speed blender or food processor, add the red pepper, prepared cauliflower, coconut milk, water, and blend on high power until very smooth and creamy.
3. Taste the soup and wait five minutes before seasoning it, and if desired season to taste. (Adding a pinch of salt and pepper to each individual's bowl before serving works fine too).
4. Optionally, garnish with finely diced red peppers, a drizzle of coconut milk, coconut oil, coconut butter, or olive oil; fresh herbs, nuts or seeds, dollop of sour cream or yogurt; a dash of salt, pepper, cinnamon, nutmeg, ginger.
5. Store soup in an airtight container in the refrigerator and reheat in the microwave or on the stovetop. Soup will keep for up to 5 days in the refrigerator or can be frozen for up to 3 months.

Enjoy!
Nutrition Facts
Per Portion
Calories from saturated fat
19.3
Polyunsaturated Fat
0.2 g
Monounsaturated Fat
0.2 g
Dietary servings
Per Portion
Energy sources
Notes:
To make this recipe "GO BOTH WAYS": First off, this is a great starter or side with no edits required - veggie-friendly and omnivores alike can enjoy this simply as is in the original recipe. With that said, if you'd like to make it into a main, you can add a scoop of hemp or pea protein right at the very end (right before serving - just stir it in) for the vegetarians, and then omnivores can enjoy this with some pulled pork or chicken (either on-top or on the side).
About
Contact Us
Meal Garden, 326 1/2 Bloor Street West, Unit 4, Toronto, Ontario, M5S 1W5, Canada