Sweet Potato Spinach Breakfast
5
35
137
Ingredients
Minutes
Calories
Prep
Cook
Servings
10 min
25 min

6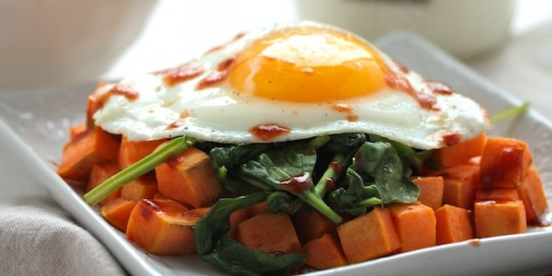 A well-rounded and perfectly balanced breakfast!
Ingredients
| | |
| --- | --- |
| 2 medium potato | Sweet potato (peeled, chopped) |
| 1 tbsp | Extra virgin olive oil |
| 1 bag(s) | Spinach (washed, dried) |
| 6 medium egg | Egg |
| 1/4 tsp | Salt and pepper (to taste) |
Instructions
1. Preheat the oven to 350 degrees F and prepare your baking sheet by lining it with parchment paper (or use a silicon mat).

2. Peel and cube sweet potato into ½" cubes and then place them on the baking sheet and drizzle 1/2 tbsp of olive oil over the top of the sweet potato cubes. Toss with spoons to coat the sweet potatoes in oil.

3. Place the sheet pan with the sweet potatoes in the heated oven and bake for 25-30 minutes, turning halfway. They should be fork-tender and if they are still solid in the middle add them back to the oven for another 5-8 minutes.

4. While the potatoes are roasting, heat a large non-stick skillet over medium-high heat on your stove. Add the spinach and turn it frequently until it gets soft (apx. 3 minutes). Work in small batches with the spinach until all of it is cooked. Once cooked, set the spinach aside.
5. Place the pan back on the stove op over medium heat and add 1/2 tbsp of olive oil. Wait 30 seconds until the oil is hot and then crack the eggs into the pan.

6. Cover the pan with a tight lid and cook until the whites have set (about 5-7 minutes).

7. Meanwhile, assemble 6 plates by adding sweet potatoes, followed by spinach and then add an egg to each plate on the top. Sprinkle with sea salt. Devour immediately.
Notes:
Quick Tips:
You can prep the potatoes ahead of time, or use up leftover potatoes from dinner. Regular potatoes also work well with this dish.

Top with: hot sauce, Greek yogurt, pico de gallo, guacamole, fresh sliced avocado, or whatever your topping of choice is.
Nutrition Facts
Per Portion
Calories from saturated fat
15.9
Polyunsaturated Fat
1.0 g
Monounsaturated Fat
3.6 g
Total Carbohydrate
10.8 g
Dietary servings
Per Portion
| | |
| --- | --- |
| Meat Alternative | 0.5 |
| Vegetables | 2.0 |
Energy sources