Sweet Potato "Toast" with Avocado, Feta & Eggs
12
35
432
Ingredients
Minutes
Calories
Prep
Cook
Servings
10 min
25 min

4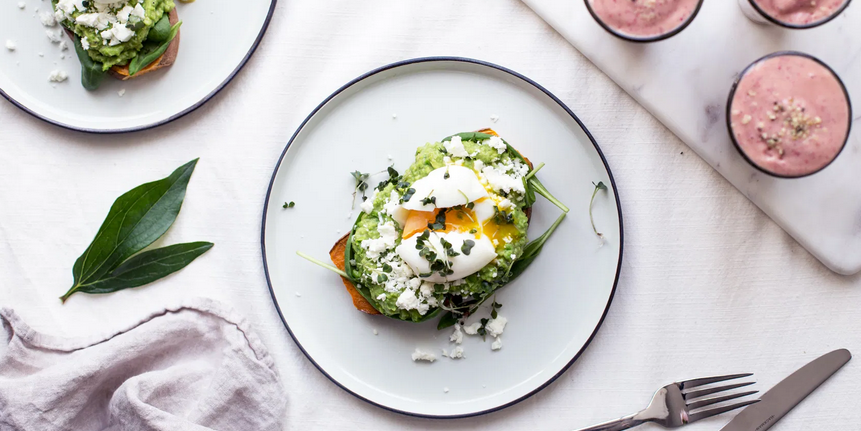 A healthy grain-free option that uses sweet potato toast instead of whole-grain toast.
Ingredients
| | |
| --- | --- |
| 1 medium potato | Sweet potato |
| 2 1/2 tbsp | Extra virgin olive oil |
| 1 avocado(s) | Avocado (for Avocado-pea mash) |
| 1 1/2 cup | Frozen green peas (thawed, for Avocado-pea mash) |
| 1 tbsp | Basil, fresh (or any herb you prefer; or sprouts) |
| 1/2 whole lemon(s) | Lemon juice (for Avocado-pea mash) |
| 3 tbsp | Extra virgin olive oil (for Avocado-pea mash) |
| 1 tbsp | Water (as needed, for Avocado-pea mash) |
| 1 pinch | Salt and pepper (for Avocado-pea mash) |
| 4 medium egg | Egg |
| 1 cup | Baby spinach |
| 1/3 cup, crumbled | Feta cheese (sheep milk) |
Instructions
1. Preheat the oven to 400 degrees F. Cover a baking sheet with parchment paper.
2. Wash the sweet potato thoroughly and cut it into about 1/2 - 1" slices lengthwise (the thinner the slice, the crispier the potato). Place the sweet potatoes on the baking tray and drizzle with olive oil, then using a brush, brush the sweet potato slices until they are covered front and back with oil. Bake for about 15-20 minutes, until the sweet potatoes are soft.
3. Bring a large pot filled with water to a boil (for the eggs).
4. Meanwhile, prepare the avocado pea mash by adding the avocado, peas, basil, lemon juice, olive oil, water, salt and pepper to a blender and pulse until relatively smooth, with some bits left. Add a bit of water, if needed. You can also mash the ingredients with a hand mixer. Adjust salt and pepper seasoning to taste.

5. Place the eggs in your large pot of boiled water and cook for about 4 to 5 minutes, so that the yolk remains runny. If you like, you can also do poached eggs or just fry the eggs on a pan.

6. When the sweet potatoes are ready, remove them from the oven. Place the slices on plates and top with spinach, avocado pea mash, crumbled feta cheese and the cooked eggs. Optional to sprinkle fresh herbs on top. Serve straight away and enjoy!
Notes:
Quick Tips:
You can also place your sweet potato toasts in the toaster and cook until soft on the inside and crispy, toast-like on the outside. For vegan version, omit the egg or replace the egg with tofu or tempeh.
Nutritional Highlights:
Sweet potato
Sweet potatoes are a rich source of fibre as well as containing an array of vitamins and minerals including iron, calcium, selenium, and they're a good source of most of our B vitamins and vitamin C.
Nutrition Facts
Per Portion
Calories from saturated fat
64
Polyunsaturated Fat
3.8 g
Monounsaturated Fat
21.2 g
Total Carbohydrate
19.9 g
Dietary servings
Per Portion
| | |
| --- | --- |
| Meat Alternative | 1.0 |
| Milk Alternative | 0.3 |
| Vegetables | 1.9 |
Energy sources