Sweet Potato Toast with Smoked Salmon & Guacamole
5
40
362
Ingredients
Minutes
Calories
Prep
Cook
Servings
10 min
30 min

1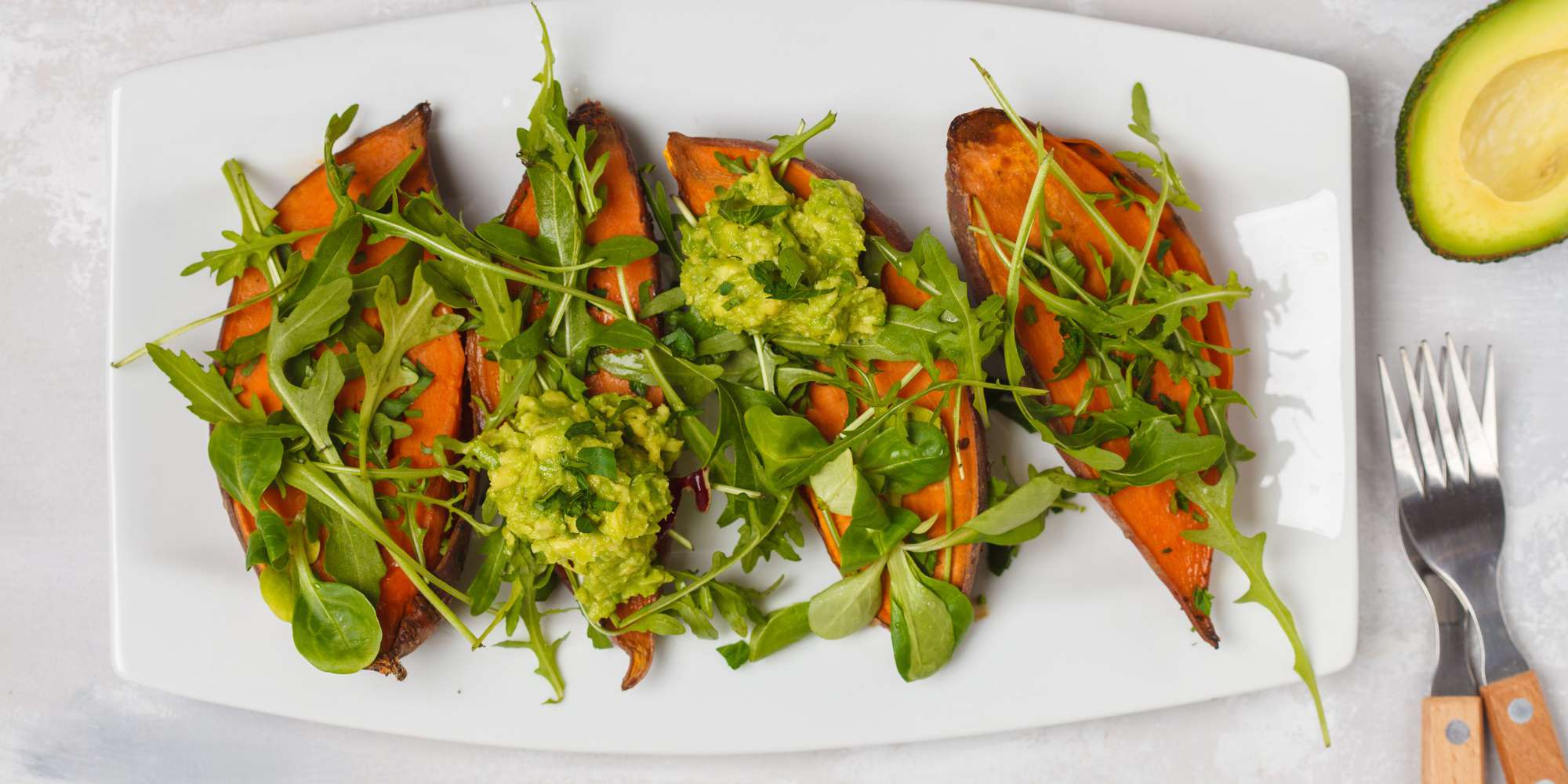 A great breakfast or lunch using sweet potatoes as a base for a delicious and nutritious toast.
Ingredients
| | |
| --- | --- |
| 1 medium potato | Sweet potato |
| 1 tbsp | Extra virgin olive oil |
| 1/8 tsp | Sea salt |
| 2 tbsp | Guacamole (see notes) |
| 4 piece | Salmon, smoked (see notes for vegan option) |
Instructions
1. Preheat oven to 400F degrees.
2. Line a baking sheet with parchment paper.
3. Wash sweet potato thoroughly, and then slice into 1/4" an inch slices (you can use a mandoline slicer). These are your sweet potato toasts.
4. Coat both sides of sweet potato toasts with olive oil and lightly sprinkle with sea salt.
5. Bake for 30 minutes (flipping at 20 minutes). At 20 minutes, set oven to broil and continue to cook for 1-2 minutes on each side, until toasty.
6. Remove from oven and set on a plate. Top sweet potato toasts with guacamole and smoked salmon (check notes for vegan option).
7. Optional: you can add greens such as arugula, spinach or sprouts for an extra nutritional boost.
Notes:
Quick Tips:
You can make your own guacamole using a Meal Garden recipe, or buy ready-made from brands like Wholly Guacamole.
---
Substitution:
Vegan
Use 1/4 cup of canned black beans (BPA free can) in place of salmon.
---
Nutritional Highlights:
Sweet potatoes
High in vitamins A, C, B5 and B6. They are also high in fiber and help with blood sugar regulation.
Nutrition Facts
Per Portion
Calories from saturated fat
29.6
Polyunsaturated Fat
2.8 g
Monounsaturated Fat
14.5 g
Total Carbohydrate
28.6 g
Dietary servings
Per Portion
Energy sources