Asparagus and Tomato Salad
12
15
340
Ingredients
Minutes
Calories
Prep
Cook
Servings
10 min
5 min

2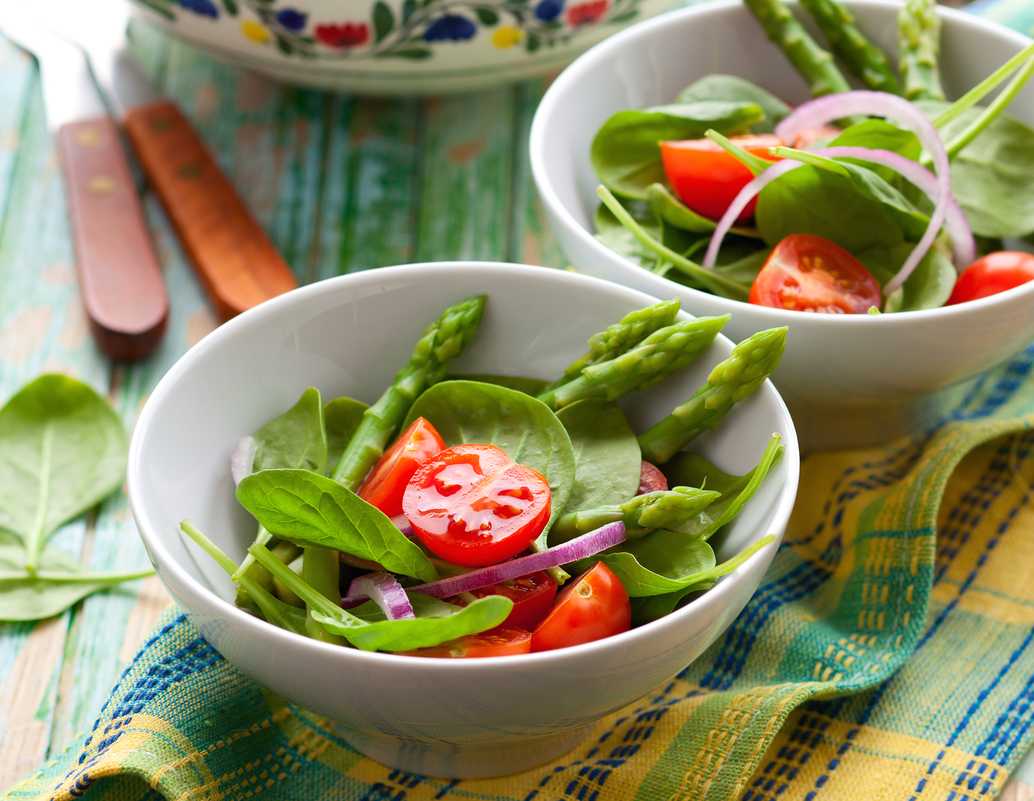 A delicious side salad to add to your meal. Loaded with fresh market ingredients, straight from the garden!
Ingredients
| | |
| --- | --- |
| 8 medium spear(s) | Asparagus (trimmed, snap off ends) |
| 3 tbsp | Extra virgin olive oil (for dressing) |
| 2 tbsp | Wine vinegar (for dressing) |
| 1/2 tsp | Lemon peel (zest) (grated into a small bowl) |
| 1 pinch | Salt |
| 1 dash | Black pepper |
| 1 cup | Arugula (chopped) |
| 1 head | Lettuce, butterhead (Boston) (torn in bite size pieces) |
| 1 cup | Lettuce, spring mix (mesclun) |
| 4 medium | Tomato (sliced) |
| 12 medium | Black olives (pitted and chopped; optional) |
| 1 tbsp | Pine nuts, dried (optional) |
Instructions
In a pot of boiling water, cook asparagus for about 4 minutes or until bright green and tender-crisp. Drain well and rinse with cold water. Drain again. Chop into 2-inch (5 cm) pieces.
Meanwhile, prepare the dressing. In a small bowl, whisk together oil, wine vinegar, lemon zest, salt, and pepper; set aside.
In a large platter or bowl, arrange the arugula, and lettuces around the edge to form the base of the salad. Place the sliced tomatoes in a circle on top and asparagus in the center.
Sprinkle with olives and pine nuts (optional).
Drizzle with dressing to serve.
Notes:
Nutritional Highlights:
Asparagus
is a great source of fiber and vitamins A, C, and E which are powerful antioxidants. It also has chromium which may enhance the body's response to insulin or lowering blood sugar.
Tomato
are a dietary source of lycopene which is an antioxidant. plus it has vitamin C.
Arugula
is "known" as a cancer-fighting power food because of its high content of fiber and antioxidants, it is also composed of 90% water so it is great hydrating food in the summer months.
Pine Nuts
are high in beneficial monounsaturated fats, magnesium, and vitamin E, these 3 work synergistically to help protect the heart.
Nutrition Facts
Per Portion
Calories from saturated fat
34
Polyunsaturated Fat
3.8 g
Monounsaturated Fat
18.6 g
Total Carbohydrate
17.3 g
Dietary servings
Per Portion
| | |
| --- | --- |
| Meat Alternative | 0.1 |
| Vegetables | 6.2 |
Energy sources