Grain-free Tabbouleh Salad
9
7
92
Ingredients
Minutes
Calories
Prep
Cook
Servings
7 min
0 min

5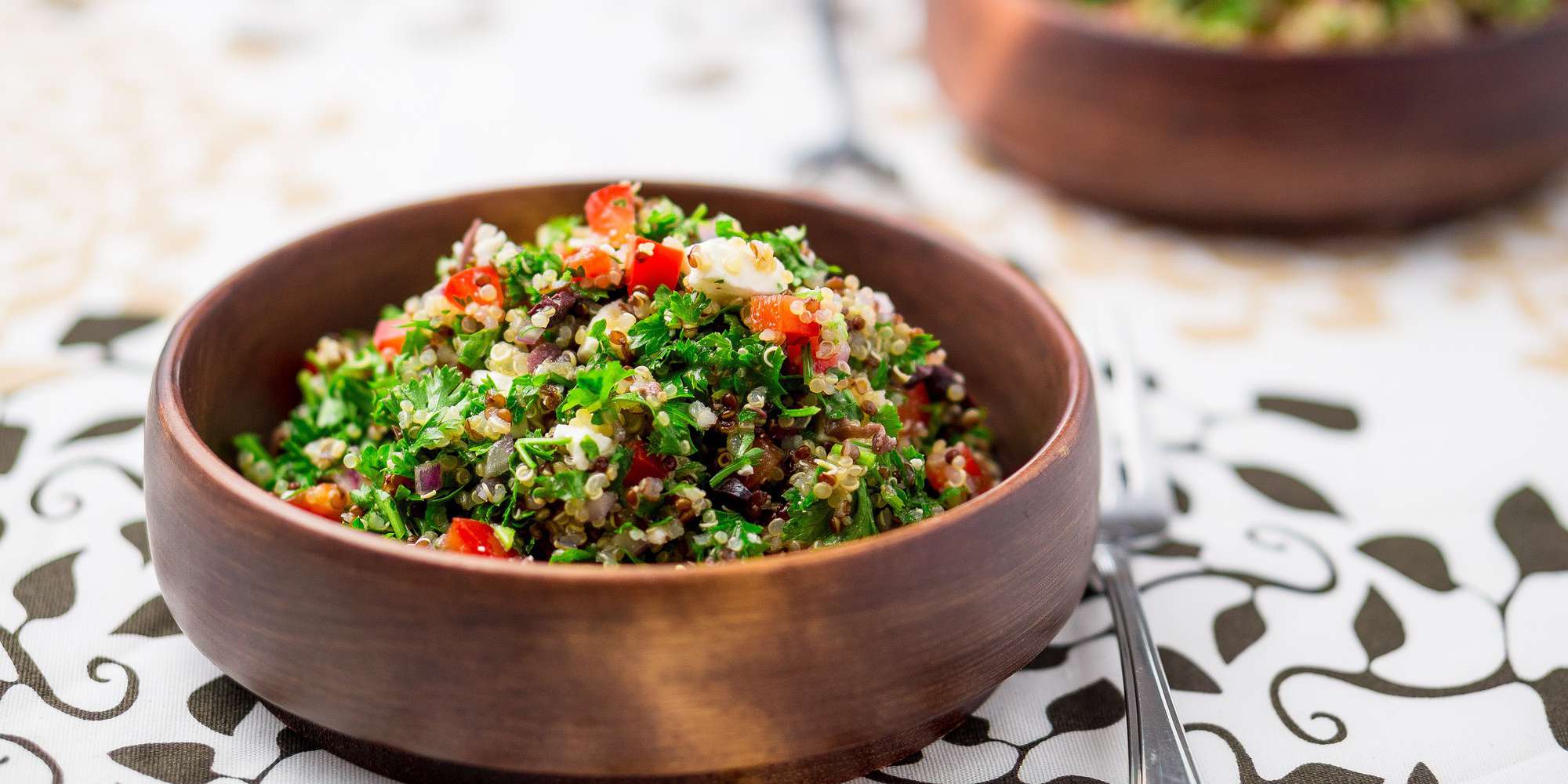 A twist on the classic tabbouleh salad, but for those who struggle to digest grains, option to add bulgur wheat for a more traditional salad.
Ingredients
| | |
| --- | --- |
| 2 bunch | Parsley, fresh |
| 8 leaf | Mint, fresh |
| 1/2 medium | White onion (small, diced finely) |
| 1/2 cucumber(s) | Cucumber (chopped finely) |
| 3 tomato | Plum tomatoes (medium sized; chopped, drained) |
| 2 tbsp | Olive oil |
| 1 whole lemon(s) | Lemon juice (freshly squeezed) |
| 1 pinch | Salt (to taste) |
| 1 dash | Black pepper (to taste) |
Instructions
1. Rinse and chop your parsley and mint and place it in a large mixing bowl.
2. Then mince your onion, chop your cucumber and chop your tomatoes and add them to the mixing bowl with the herbs. Mix everything thoroughly to combine.
3. Add your olive oil, lemon juice, salt and pepper and thoroughly combine again.
4. Serve immediately and store leftovers in a tightly sealed container for freshness throughout the week. Add 1-2 cups of cooked bulgur wheat for a more traditional tabbouleh.
Notes:
Quick Tips:
For traditional tabbouleh add bulgur wheat. You can also add quinoa or couscous.
Optional: add goat or feta cheese.
Use on top of meat, salad, or as a side salad.
---
Nutritional Highlights:
Herbs
Parlsey is a powerful antioxidant, and mint helps with digestion. Plenty of herbs have inflammation-reducing properties due to their phytochemicals.
Nutrition Facts
Per Portion
Calories from saturated fat
7.7
Polyunsaturated Fat
0.7 g
Monounsaturated Fat
4.2 g
Dietary servings
Per Portion
Energy sources
Recipe from:
Nicole Di Nardo Nutrition