Tuna Steak with Spaghetti Squash Pancakes
5
65
496
Ingredients
Minutes
Calories
Prep
Cook
Servings
10 min
55 min

2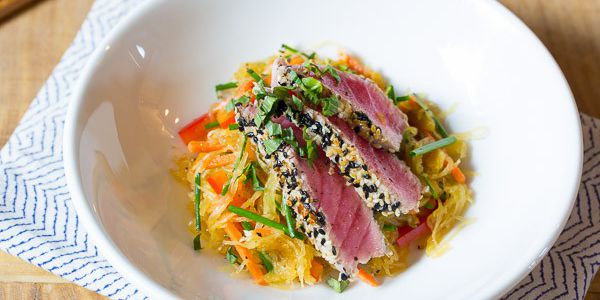 High protein with vegetables, enjoy this nutritious meal!
Ingredients
| | |
| --- | --- |
| 8 clove(s) | Garlic (roasted) |
| 1 tbsp | Peppercorn |
| 1/8 tsp | Salt (to taste) |
| 1 squash | Spaghetti squash (seeded, cut in half) |
| 170 gm | Tuna, bluefin, raw (cut into 2 steaks) |
Instructions
1. Preheat oven to 375 degrees.

2. Place squash face up on middle rack of oven and roast for 45 mins or until fork tender - remove and allow to cool. Once cool enough to handle, begin using a fork to pull flesh out in ribbon-like "spaghetti".

3. Heat olive oil in a medium ovenproof sauté pan on medium-high and add half of the squash "spaghetti". Sauté on medium-high for a couple of minutes, shaping like a pancake, then flip and repeat

4. Remove to a paper towel to drain and sprinkle w/salt and pepper.

5. Repeat process w/second half of squash and set aside

6. Turn on your oven's broiler to high. Mash roasted garlic with a fork and add a tablespoon of roughly cracked peppercorns and sea salt to taste.

7. Press the garlic/pepper paste to each of the tuna steaks on one side. Heat the ovenproof sauté pan again on medium-high heat with more olive oil.

8. Add steaks, naked side down and sear for a few moments, shaking to ensure it does not stick to bottom

9. Remove from stove and place under broiler for 2 - 4 mins depending on your broiler - you want the steaks to be just barely cooked on the outside, very pink in the middle.

10. Place one squash pancake on each plate and slice tuna steaks into medallions and serve on top of pancakes.
Notes:
Squash
is a power-packed vegetable, rich in manganese which helps boost bone strength
Tuna
has heart healthy omega 3 fatty acids, it is a high quality protein that helps with growth and maintenance of lean muscle tissue
Nutrition Facts
Per Portion
Calories from saturated fat
25.7
Polyunsaturated Fat
5.7 g
Monounsaturated Fat
2.8 g
Dietary servings
Per Portion
Energy sources