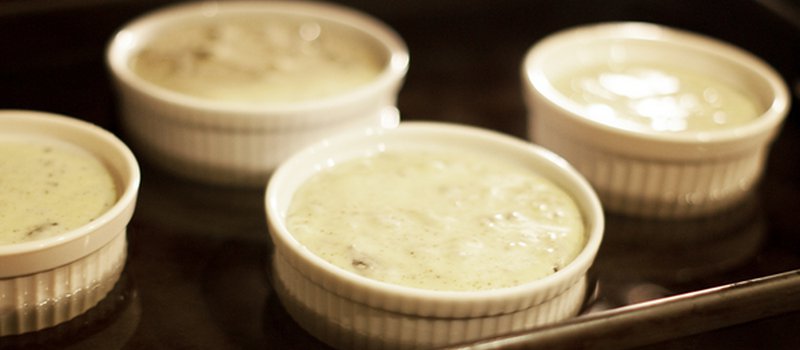 Upside-Down Cheesecake
Prep
Cook
Ready in
Servings
30 min
25 min
55 min

6
Ingredients
| | |
| --- | --- |
| 4 square | Baking chocolate, semi-sweet (sauce) |
| 1/3 tbsp | Butter, salted (sauce) |
| 1/3 cup | Butter, salted (crust) |
| 1 cup | Cream cheese (filling) |
| 1 tbsp | Gelatin dry powder, unsweetened (filling) |
| 1/3 cup | Granulated sugar (filling) |
| 1 cup | Ground hazelnuts (toasted then ground, crust) |
| 3 tbsp | Hazelnut Liqueur (sauce) |
| 3 tbsp | Hazelnut Liqueur (filling) |
| 1 cup | Sour cream, 14% M.F. (filling) |
| 1 1/4 cup crumbs | Vanilla wafer, 12 to 17% fat (crust) |
| 1/3 cup | Water (filling) |
| 1/4 cup | Whipping cream, 35% M.F., sweetened, whipped (filling) |
| 1/4 cup | Whipping cream, 35% M.F., sweetened, whipped (sauce) |
| 6 square | White chocolate, baking (filling) |
Instructions
To make Hazelnut Crust:
Grease 6 straight sided, cup sized ramekins. Cut circles of parchment paper large enough to fit the bottom of each mould. Line the bottoms with the parchment paper.

Melt butter in a medium saucepan. Remove from heat. Add crumbs and hazelnuts. Stir. Press evenly into each mould with a flat bottomed glass. Chill for 15 minutes.

To make White Chocolate Filling:
Sprinkle gelatin over water in a saucepan. Let stand for 1 minute. Heat and stir on low until dissolved completely. Cool slightly.

Heat the next three ingredients in a large bowl until smooth.
Beat gelatin mixture, white chocolate and liqueur.
Beat whipping cream in small bowl until soft peaks form. Fold into cream cheese mixture. Divide and spoon into moulds. spread evenly. Cover. Chill for at least 6 hours or overnight.

To make Chocolate Sauce:
Heat first 3 ingredients in small heavy saucepan on lowest heat, stirring often, until chocolate and butter are almost melted. Do not overheat. Remove from heat. Stir until smooth.

Stir in liqueur. Makes about 1 cup sauce. Invert each cheesecake onto 6 individual plates. Carefully spoon sauce around each cheesecake onto plates.
Nutrition Facts
Per Portion
Calories from saturated fat
294
Polyunsaturated Fat
3.6 g
Monounsaturated Fat
21.3 g
Dietary servings
Per Portion
| | |
| --- | --- |
| Meat Alternative | 0.4 |
| Milk Alternative | 1.0 |
Energy sources
About
Contact Us
Meal Garden, 326 1/2 Bloor Street West, Unit 4, Toronto, Ontario, M5S 1W5, Canada