Vegan Omelette
11
20
254
Ingredients
Minutes
Calories
Prep
Cook
Servings
10 min
10 min

1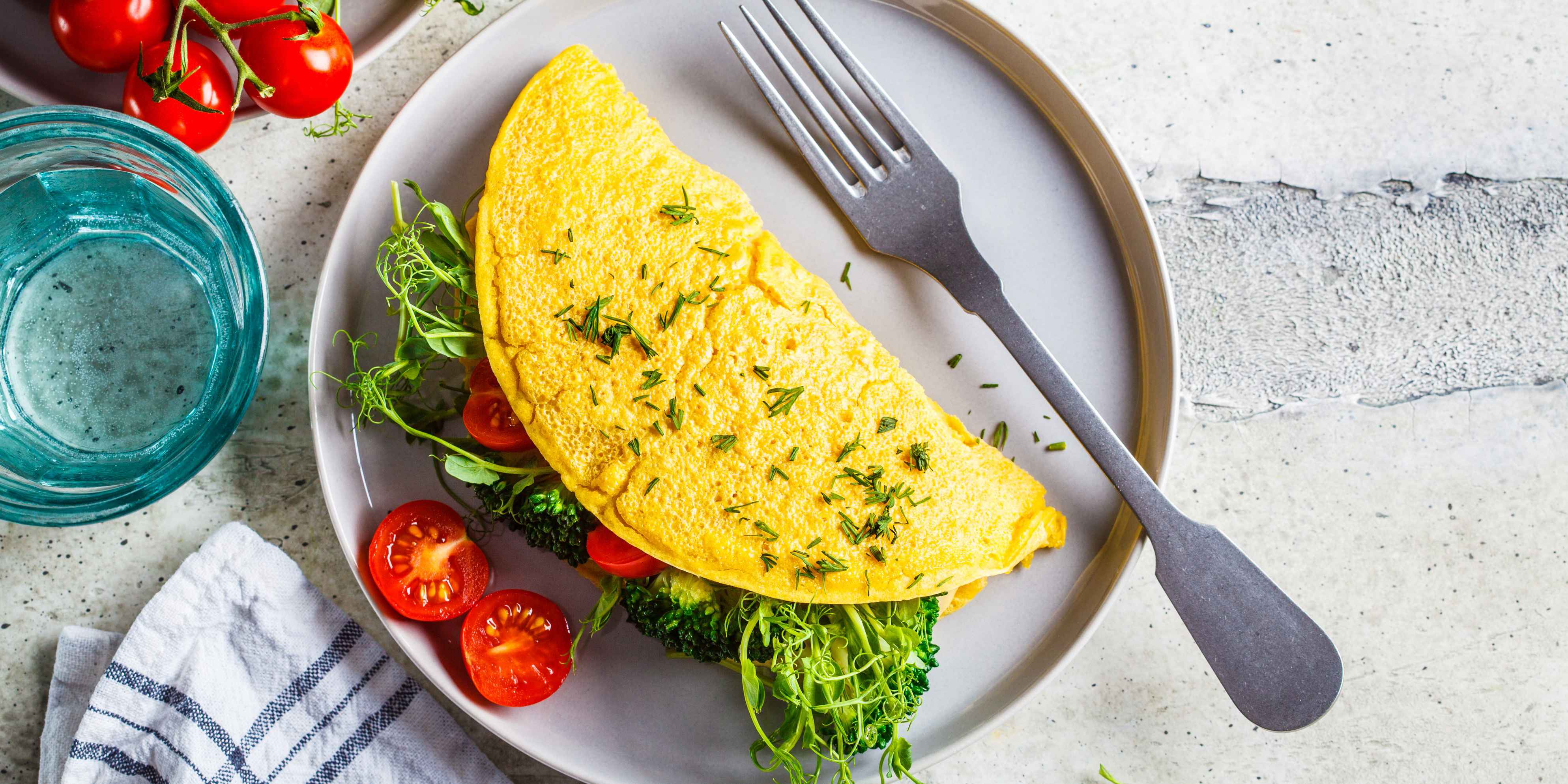 A great way to start your day! Get creative with your vegetables!
Ingredients
| | |
| --- | --- |
| 171 gm | Tofu, silken, soft (or organic firm silken tofu) |
| 1 tbsp | Soy milk, unsweetened |
| 1 tbsp | Nutritional yeast |
| 1 tbsp | Potato starch (or cornstarch) |
| 1 tsp | Tahini (optional) |
| 1/8 tsp | Onion powder |
| 1/8 tsp | Turmeric, ground |
| 1/4 tsp | Salt (or to taste) |
| 1/4 tsp | Paprika, smoked (a pinch; or chipotle pepper) |
| 1/4 tsp | Black salt (Kala Namak) (a pinch) |
| 1/3 cup | Vegetable mix, chopped (vegetable filling of choice (have filling warm or at room temperature) |
Instructions
Blend together all ingredients except for vegetable filling until smooth. (I use a Magic Bullet blender, but you may use any small blender or hand blender. To use a larger blender, you may have to make a double batch.)
Spray or wipe a large non-stick skillet lightly with oil and heat on medium-high until very hot. Pour the batter into the center of the skillet in a circular pattern about 6-8 inches across, and use a spoon or spatula to smooth over the top.
Place your filling ingredients over the batter, and reduce the heat to medium-low. Cover and cook for about 3-5 minutes, checking often to see if it's done.
When the edges have dried out and the middle is no longer liquidy, lift a small section with a spatula and check to see that the omelette is set. It will be golden in color and browned in spots. When it's ready, loosen the omelette by sliding the spatula under it from each direction, and then fold one side over the other.
Cook for about 1 more minute. Carefully lift or slide it onto a plate and serve hot.
Notes:
Tofu
is a great source of plant-based protein and is an excellent source of calcium and iron
Nutrition Facts
Per Portion
Calories from saturated fat
9.7
Polyunsaturated Fat
4.1 g
Monounsaturated Fat
2.5 g
Total Carbohydrate
26.6 g
Dietary servings
Per Portion
| | |
| --- | --- |
| Meat Alternative | 1.3 |
| Vegetables | 1.1 |
Energy sources