Vegan & Gluten Free Stuffed Sweet Peppers
11
45
292
Ingredients
Minutes
Calories
Prep
Cook
Servings
30 min
15 min

5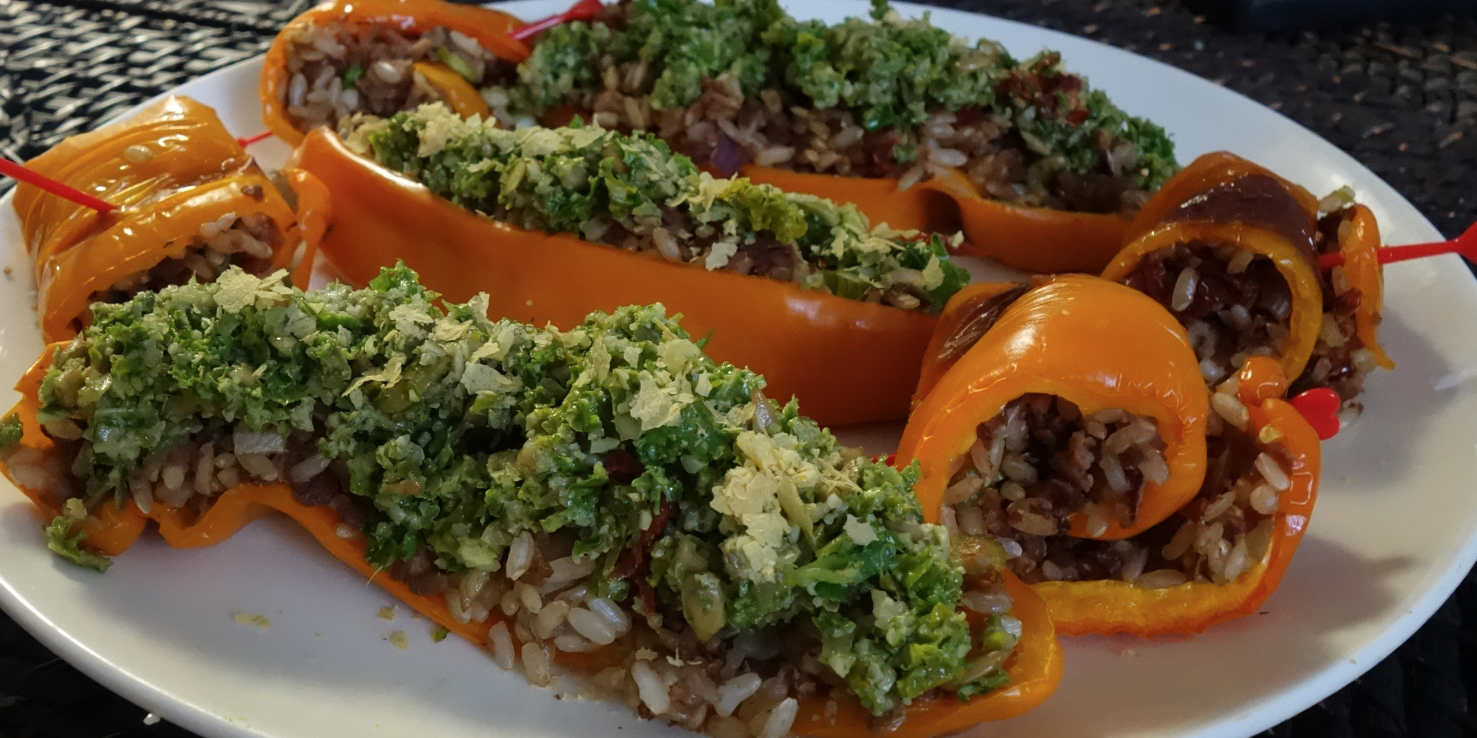 Ingredients
| | |
| --- | --- |
| 5 medium pepper(s) | Orange bell pepper (long peppers) |
| 1 cup | Brown rice, long-grain, dry |
| 3/4 cup | Ground soy ((textured soy protein) soak for at least 10 min before cooking) |
| 4 medium spear(s) | Asparagus (cut into slim little rings) |
| 1/4 cup | Red onion |
| 1 tsp | Himalayan sea salt |
| 1 tsp | Italian herb seasoning, McCormick |
| 1 1/2 tsp | Coconut oil |
| 5 piece | Sun-dried tomatoes (slivered or diced) |
| 3/4 cup | Sweet potato (cooked and mashed, this is the binder for the stuffing *squash or pumpkin are okay to substitute) |
| 1/4 cup | Sunflower seeds (roasted but any will do) |
Instructions
1. Preheat oven to 350 F

2. Begin to soak textured soy protein (if that's what your using, whereas ground soy may be ready to cook)* see notes*

3. Bring med pot of water to boil. If you do not have sweet potato already cooked, peel it and cut it into cubes and boil it in the water until cooked, strain and then add the rice to remaining water, top up a bit if necessary. If you sweet potato is already cooked savepotato is . This will save you timeand add some salt, a few drops of coconut oil and then rice. Reduce heat and cover. Cook according to package/instructions or until desired consistency. Rice can still be a little al dente if necessary as it will be going in the oven after. It's also okay to use cooked rice in the recipe.**

4. While rice is cooking chop up asparagus, sundried tomatoes and onion and garlic.

5. Strain (soy texture protein) if necessary, add a bit of the coconut oil to the pan before adding thesoy or ground soy.

6. While the soy is cooking, slice sweet peppers in half lengthwise. I used long peppers for this recipe but bell peppers are okay too, just they are deeper and wider so cooking time may vary slightly.

7. Add chopped ingredients and Italian seasonings, salt, sunflower seeds and whatever you may want to add to the to the pan and reduce heat to medium and let ingredients cook and season each other. When cooked to desired doneness, add sweet potato and mix until evenly distributed.

8. Strain any remaining water from rice and add seasoned soy mixture to the pot with some coconut oil. Mix well.

9. Using a basting brush, coat a bit of coconut oil on a baking sheet before adding sliced peppers.

10. Stuff peppers with heaping helpings of the mixture. Place in oven on middle rack.

11. Bake for about 15 min or until desired doneness. If you want to add sauce, cheese, pesto etc. check on the peppers at about 7 min before adding them and keep an eye on them to make sure they don't burn.
Notes:
In the picture I show two variations. One topped with a fresh Coconut Lime Curry Kale & Pumpkin Seed Pesto and sprinkles of nutritional yeast, the other are rolled stuffed peppers which are sealed with a prong and work nicely as a side or appetizer. I counted each pepper as a serving for the nutritional info, which would be using them as a side and two peppers or rolls each. If you add cheese, sauce, pesto or other toppings use mealgarden to learn the nutritional info.
Nutrition Facts
Per Portion
Calories from saturated fat
17.6
Polyunsaturated Fat
2.5 g
Monounsaturated Fat
1.5 g
Dietary servings
Per Portion
| | |
| --- | --- |
| Grain | 1.2 |
| Meat Alternative | 0.3 |
| Vegetables | 2.3 |
Energy sources