Meat and Greens Skillet Family Meal
13
25
409
Ingredients
Minutes
Calories
Prep
Cook
Servings
10 min
15 min

4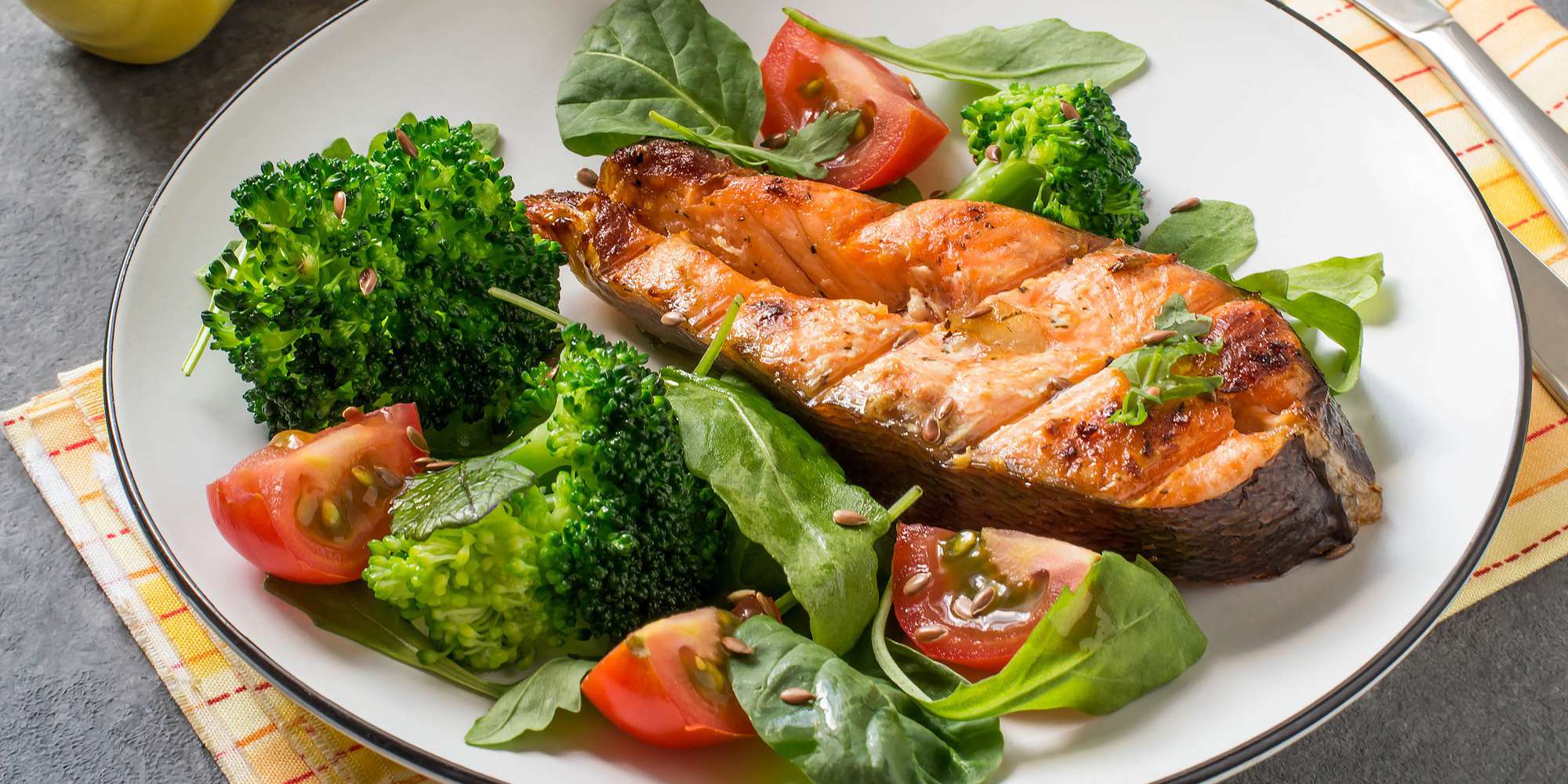 An autoimmune family friendly meal.
Ingredients
| | |
| --- | --- |
| 1 tbsp | Coconut oil |
| 2 tbsp | Apple cider vinegar (or lemon juice/ red wine vinegar) |
| 1/2 tbsp | Kelp (kombu, tangle) seaweed, raw (organic kelp powder (optional)) |
| 1 tsp | Sea salt (make sure it is iodized) |
| 1 sprig | Rosemary, fresh (can use thyme or basil) |
| 908 gm | Atlantic salmon, wild (Can swap with beef, chicken, turkey or ham.) |
| 2 cup | Broccoli, raw (florets sliced) |
| 1 cup chopped | Collard greens (roughly chopped) |
| 1 cup shredded | Red cabbage |
| 1 cup | White onion (diced) |
| 1 cup chopped | Carrots |
| 2 cup | Spinach (baby spinach) |
| 2 clove(s) | Garlic (crushed) |
Instructions
1. Add coconut oil to a large skillet with a cover over medium heat.
2. Add vinegar, kelp powder, salt, and rosemary. Add fish (or meat) and simmer until it is cooked about 10-12 minutes. Internal temperature of fish should be 158F or 70C degrees, and of poultry 165F or 74C degrees.
3. Add broccoli, collard greens, red cabbage, onion, carrots and spinach and steam for another 1-2 minutes.
4. Add garlic and continue steaming for 3 minutes.
5. Serve the meat or fish on top of the bed of greens.
Nutrition Facts
Per Portion
Calories from saturated fat
48
Polyunsaturated Fat
6.0 g
Total Carbohydrate
13.1 g
Dietary servings
Per Portion
Energy sources
Notes:
Quick Tips:
Safety
Never eat seafood that is raw, or not cooked through. Internal temperature of fish should be 158F or 70C degrees and for poultry 165F or 74C degrees.

This recipe was formulated by Dr. Terry Wahls to address autoimmune disease and feed the mitochondria. The ratio of greens to meat is very important in order to get the most nutrients in this diet.
Nutritional Highlights:
Broccoli
Broccoli is a good source of vitamin K and calcium, two vital nutrients for maintaining strong, healthy bones.
Salmon
High in omega-3s important for heart, brain and hormone health.