Yummy Mummies (a.k.a. Halloweenies)
6
40
102
Ingredients
Minutes
Calories
Prep
Cook
Servings
10 min
30 min

16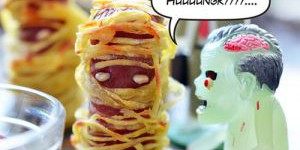 These Paleo Yummy Mummies (Halloweenies) are healthy and delicious kid-friendly snacks for your Halloween parties! Plus, they're super easy to make!
Ingredients
| | |
| --- | --- |
| 2 medium potato | Sweet potato (white sweet potato; peeled - see Notes below) |
| 2 tbsp | Ghee (melted) |
| 1 tbsp | Ghee (for greasing the wire rack) |
| 1 tsp | Kosher salt |
| 8 sausage | Sausage, frankfurter, beef (cut in half (I used Applegate Farms Natural Uncured Beef Hot Dogs)) |
| 2 tbsp hulled | Sunflower seeds (for 32 eyes) |
Instructions
First, preheat the oven to 400°F with the rack in the middle position. Line a baking tray with foil or parchment, and place a wire rack on top. Grease the rack with melted ghee.
Shred the white-fleshed sweet potato with a spiralizer and place in a large bowl. (A spiralizer's your best bet for this recipe; it's hard to get sufficiently long strands of sweet potato with a julienne peeler or by feeding it through your food processor.)
Toss the sweet potato strings with the melted ghee and salt.
Grab a chopped hot dog and wrap some strands of sweet potato around it. Try to cover your half-wiener from end to end, but don't go for a super thick layer of sweet potato or else the "bandages" won't crisp up properly in the oven.
Place the finished dog on the greased wire rack and push apart some of the strands in the top ⅓ of the hot dog to expose the "face." Repeat until you've assembled an army of eyeless, limbless mummies.
Bake the mummies in the oven for about 20 minutes or until the sweet potato "bandages" are golden brown, turning the tray halfway through the cooking process.
To make the eyes, you can stab toasted sunflower seeds into each wiener's "face." (Dabs of mustard will work, too, but they're prone to smearing. And no one wants to eat mummies whose mascara is running.)
The bottom of each mummy may need to be leveled off with a knife so they can stand upright. Arrange your mummy army on a platter. Make 'em as threatening as possible.
Serve with a bowl of thickened blood. (Paleo-friendly ketchup or homemade sriracha works, too.)
Nutrition Facts
Per Portion
Calories from saturated fat
33
Polyunsaturated Fat
0.6 g
Monounsaturated Fat
3.5 g
Dietary servings
Per Portion
Energy sources
Notes:
A note about white sweet potatoes:
I tried a number of different types of spuds: O'Henry white sweet potatoes, garnet sweet potatoes, and even russet potatoes.
I found the garnets too sweet and mushy, and the russets didn't crisp up as nicely—but the white sweet potatoes worked perfectly.
Their mildly sweet flesh is golden and string-less, and slightly drier than other sweet potatoes, making O'Henrys (or Hannahs) a great choice for making shoestring potatoes. Or mummy bandages.
Most large grocery stores should carry white sweet potatoes, but if you can't find 'em, do your best to dry any sweet potato strands before proceeding to the next step.