What are pulses?
Pulses are edible seeds of plants in the legume family.
Pulses include
Dried Peas
Dried Beans
Lentils
Chickpeas
Pulses do not include fresh beans and peas, soybeans and peanuts. Fresh beans and peas are related to pulses because they have edible seeds in podded plants, they differ because they have lower amounts of starch, fibre, and protein. Soybeans and peanuts differ because they have a much higher fat content – pulses have virtually no fat.
Pulses – A Powerhouse for Your Health
Pulses have multiple health benefits including:
Pulses can reduce bad cholesterol
Pulses are high in fibre
Pulses contain complex carbohydrates
Pulses are a source of protein
Pulses are dense in nutrients
Pulses have a low glycemic index
Reduce Bad Cholesterol
We need cholesterol for good health. There are different types of cholesterol. The bad cholesterol is connected to heart disease. Pulses have a high amount of fibre which helps lower your LDL cholesterol (the bad one).
High in Fibre
Fibre includes the part of plant foods that your body cannot digest or absorb. Pulses are high in both soluble and insoluble fibre. Soluble and insoluble fibre are important for regulating your blood sugar levels, reducing bad cholesterol, digestion and regularity.
Contain Complex Carbohydrates
Pulses contain slowly digestible carbohydrates which keeps your blood sugar levels closer to normal. Digestible carbohydrates convert to glucose when they are absorbed – glucose is important to energize you, and for the health of your brain and nervous system.
Source of Protein
Pulses are high in protein. A ½ cup serving of pulses will provide with an average of 10-17 grams of protein. Pulses are higher in the essential amino acid (amino acids we have to get from food) lysine, whereas cereals are higher in the essential amino acids methionine and cysteine. It is ideal to combine pulses with cereals or nuts to get a better quality protein that contains all of the essential amino acids. This is especially important if you are a vegetarian.
Dense in Nutrients
Pulses are a source of folate, zinc, B vitamins, and phosphorous, amongst other nutrients!
Folate is one of the B group vitamins that can be found naturally in foods. Folate is needed to make red blood cells.
Zinc is needed for proper growth and helps your body fight infections.
Vitamin B6, also known as pyridoxine, is a water-soluble vitamin. It helps to form hemoglobin, which carries oxygen in your blood.
Phosphorous is a mineral that is part of every cell in your body. Its main role is in the formation of bones and teeth.
Reduce digestive problems (gas and bloating) with these tips:
Eat small amounts and gradually increase your intake so your gut does not get overwhelmed
Drink plenty of water alongside your pulses
Change the soaking water once or twice during long soaks
Do not use the soaking liquid to cook the pulses
Cook pulses thoroughly as undercooked starch is harder to digest
Thoroughly rinse canned or pre-soaked pulses before cooking
Combine with digestive enzymes to alleviate symptoms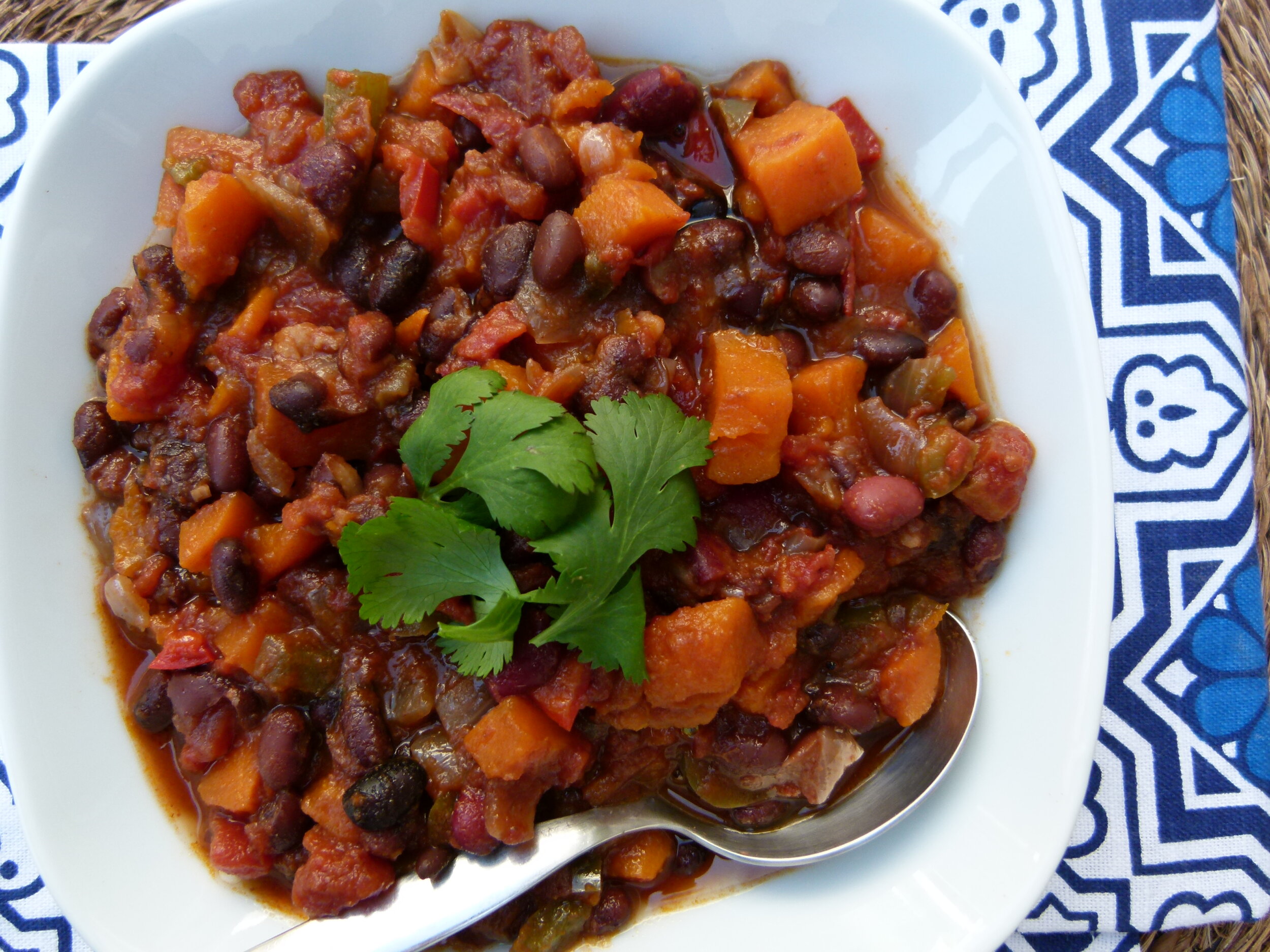 Recipe – Slow Cooker Chili with Sweet Potato
Slow Cooker Chili with Sweet Potato
| | | | | |
| --- | --- | --- | --- | --- |
| Prep | Cook | Ready in | Servings | |
| 1 h | 8 h | 9 h | 10 | |
Ingredients
| | |
| --- | --- |
| 4 cup | Red kidney beans, raw (Soaked overnight) |
| 1/2 cup | Yellow onion (Chopped) |
| 4 clove(s) | Garlic |
| 454 gm | Beef, ground, extra lean |
| 1 large potato | Sweet potato |
| 1 can(s) (28oz) | Diced tomatoes, low sodium, canned |
| 2 can(28oz) | Crushed tomatoes canned |
| 1 tbsp | Cumin |
| 2 tsp | Cayenne pepper (or to taste) |
| 2 tbsp | Chili powder |
| 2 tsp | Coriander, ground |
| 2 tsp | Oregano, dried |
| 1 tsp | Nutmeg, ground |
| 1/4 tsp | Ground cloves |
| 1/4 tsp | Salt (or to taste) |
Instructions
IN A LARGE POT COOK THE KIDNEY BEANS ON MEDIUM-HEAT UNTIL TENDER BUT FIRM – ABOUT 1-1.5 HOURS
In a large skillet – cook the beef with the onion and garlic
Add the kidney beans, and beef mixture to your slow cooker
Add the sweet potato, diced tomatoes, crushed tomatoes, spices, and salt to taste
Cook on low for 8 hours or on high for 6 hours
Nutrition Facts
Per Portion
Calories 450
Calories from fat 48
Calories from saturated fat 16.1
Total Fat 5.3 g
Saturated Fat 1.8 g
Trans Fat 0.1 g
Polyunsaturated Fat 1.0 g
Monounsaturated Fat 1.8 g
Cholesterol 25.0 mg
Sodium 333 mg
Potassium 2037 mg
Total Carbohydrate 69 g
Dietary Fiber 17.7 g
Sugars 2.9 g
Protein 31 g
Notes:
I serve this chili in a bowl or deep plate with rice, quinoa, or a nice crusty bread.
You can serve this chili with Monterey Jack cheese, sour cream and/or avocado – I like using avocado for the taste – avocado is also high in monounsaturated fat (heart healthy) and soluble fibre.
I like heat in my food – You can add as little or as much heat as you would like – cayenne pepper is great for stimulating your metabolism – an important factor for achieving a healthy body weight.
I use other beans/peas/legumes to vary this recipe such as red beans, chickpeas, and navy beans.
This recipe freezes well and you can save multiple servings for later.