Pecan Thanksgiving Yams Go Healthy
9
105
225
Ingredients
Minutes
Calories
Prep
Cook
Servings
30 min
1 h 15 min

8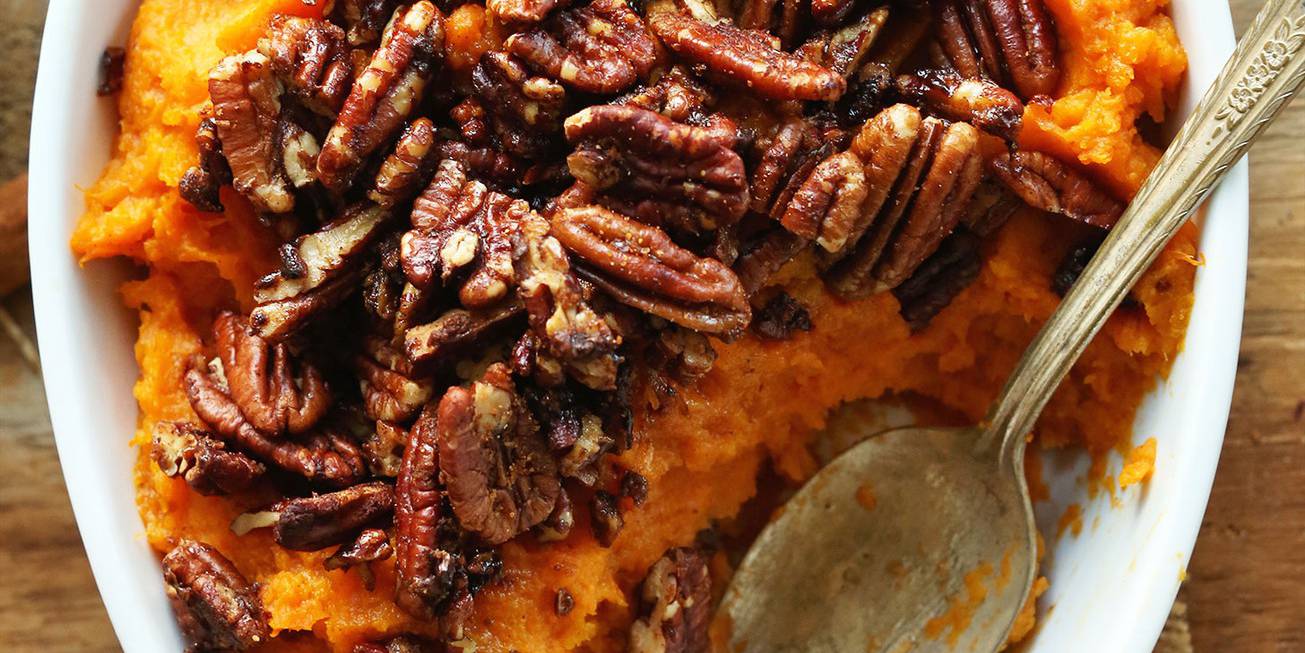 Vegan - Gluten Free - Dairy Free
Ingredients
| | |
| --- | --- |
| 5 medium potato | Sweet potato (or yams (about 3 cups of cubed pieces) |
| 1/4 cup | Orange juice |
| 2 pinch | Sea salt |
| 1 whole orange(s) | Orange peel (zest) (organic!!! Or use lemon) |
| 1 tsp | Vanilla extract, pure |
| 1 tsp | Cinnamon |
| 1 cup | Pecans (or walnuts) |
| 1/4 cup | Coconut flakes, unsweetened (or shredded, unsweetened) |
| 1/4 cup | Maple syrup, pure (can increase to 1/2 cup if you want it really sweet) |
Instructions
1. Preheat the oven to 350 degrees F. Coat 8-inch square baking dish with coconut oil.
2. Place a few inches of water & a pinch of sea salt in a pot with a large steamer basket in place & do step 3 while waiting for the water to boil.
3. Peeled and cut the sweet potatoes into 1-inch chunks. Put the sweet potatoes in the basket, cover and steam until tender, 20 to 25 minutes. While sweet potatoes are steaming do step 4.
4. Mix the pecans, coconut & maple syrup in a bowl & put to the side (to be used as the topping)
5. Transfer the potatoes to a mixing bowl and add the orange juice, orange peel, 1 pinch of sea salt, vanilla & cinnamon; whip with an electric mixer until smooth.
6. Spread the sweet potato mixture in the prepared baking dish. Next, pour and spread the pecan & maple syrup mix on top of the sweet potato mixture.
7. Bake at 350 degrees until hot and beginning to brown around the edges, 40 to 45 minutes.


Notes:
This recipe was adapted by Paula Yolles FoodTastic Health to fit the needs of those healing their digestions & eating a sweet veggie treat over Thanksgiving or for another special occasion.
Photograph by Andrew Mccaul
This recipe is dessert disguised as a vegetable. Enjoy, yet be wise to Mother Nature's natural sugars.


Nutrition Facts
Per Portion
Calories from saturated fat
13.3
Polyunsaturated Fat
3.0 g
Monounsaturated Fat
5.6 g
Total Carbohydrate
27.6 g
Dietary servings
Per Portion
| | |
| --- | --- |
| Fruit | 0.2 |
| Meat Alternative | 0.5 |
| Vegetables | 1.2 |
Energy sources